2017 International WFTDA Championships Bracket Structure and Seeding Process Released
Today, the Women's Flat Track Derby Association is releasing the tournament bracket structure for the 2017 International WFTDA Championships in Philadelphia, PA. Please read on for information on the bracket structure and seeding process for the top 12 teams from the 2017 International WFTDA Division 1 Playoffs.
The Bracket
The 2017 Championships will feature the same 12-team, 16-game bracket from D1 Playoffs.
Like the Playoffs tournament brackets, the Championships bracket is an elimination bracket with consolation games. On Sunday, the top four teams will be revealed, with the top three earning medals and the 1st place finisher earning the Hydra Trophy and the championship title.
The Seeding and Draw
Join us live on WFTDA.tv and on Facebook for our live seeding announcement this Sunday, Sept. 24, immediately following the awards ceremony at the 2017 International WFTDA Division 1 Playoffs in Dallas, Texas.
During this live broadcast, the top four finishers from the Seattle, Malmö, and Dallas Playoffs will be placed into bracket positions in the following manner:
All games from the 2017 WFTDA Playoffs will be entered into a WFTDA Rankings Calculator. The 2nd place finisher with the highest number of game rankings points from Playoffs will be granted a first-round bye, and the 1st, 3rd and 4th place finishers from their Playoff will be placed in their respective positions on the bracket. A random draw will then take place to determine the positions of the other Playoff finishers.
Seeding placement does not indicate game order. The final bracket with game times will be released on WFTDA.com and WFTDA social media channels on Friday, Sept. 29, 2017.
During our live coverage of the seeding, we will also be releasing some exciting news about WFTDA.tv Champs broadcast. Tune in on Sunday night find out what the WFTDA has to offer for this year's Championships in Philadelphia, Pennsylvania!
VIP and General Admission tickets for our 2017 International WFTDA Championships are on sale now at wftda.com/champs. Watch passes for our WFTDA.tv broadcast are on sale now at wftda.tv/watch-pass.
Download the Bracket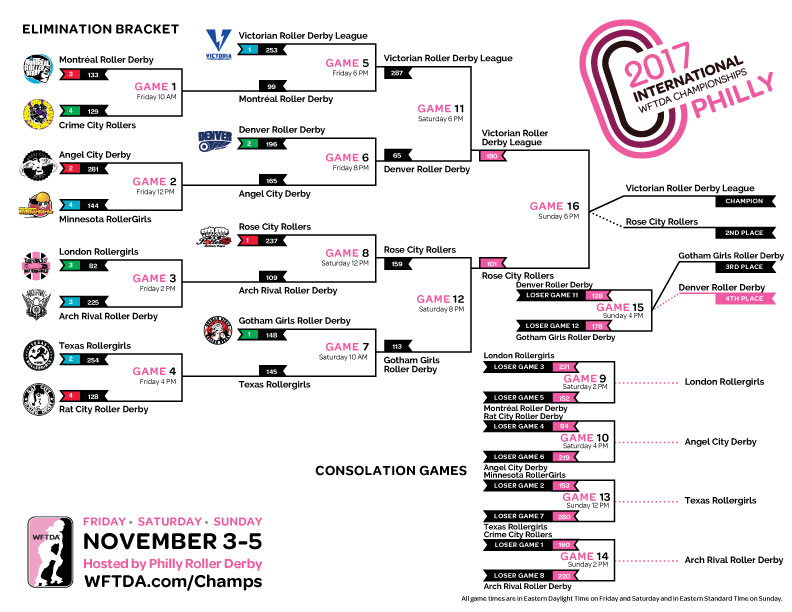 CLICK FOR PDF