Tournament Results
News & Links
2016 International WFTDA Championships
NOVEMBER 4-6, 2016
Rose City Wins!
Rose City Rollers won the 2016 International WFTDA Championships in their hometown of Portland, Oregon. Gotham Girls Roller Derby came in Second Place, and Victorian Roller Derby League came in Third Place. Blue Ridge Rollergirls took First Place in the Division 2 Finals, with Brandywine Roller Derby coming in Second Place, and Calgary Roller Derby Association coming in Third Place.

---
Download the Championships Bracket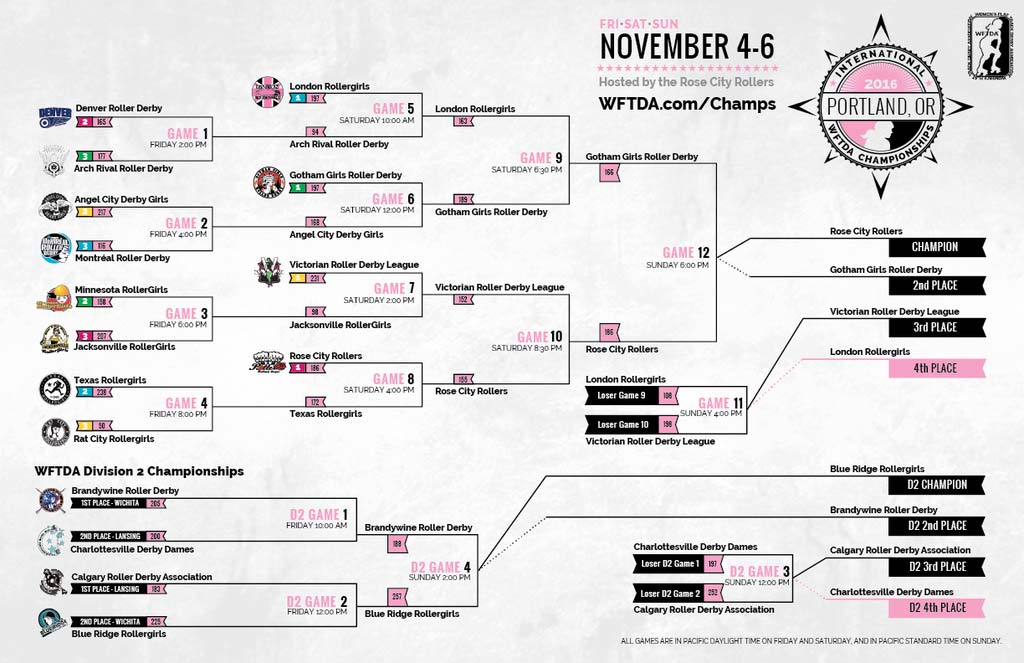 ---
HOSTED BY ROSE CITY ROLLERS
Founded in August 2004 by a small group of gritty, gutsy, and nostalgic gals who decided to dust off their quad skates and hit the rink. From those humble beginnings, Rose City has become the largest roller derby league in the world with over 500 active skating members, including an awesome junior derby program, and hundreds of volunteers and support staff. And we wouldn't be true to ourselves if we didn't mention that we are the current WFTDA Champs, bringing the Hydra trophy home in 2015!
---
THANK YOU TO OUR 2016 CHAMPIONSHIPS SPONSORS