Featured League: 2×4 Roller Derby
Formed in 2010, 2×4 Roller Derby has been working hard to not only build up the sport of roller derby in their home country, but ambitiously working toward making a name for themselves in the WFTDA world as well. Graduating to a full member in February 2016, 2×4 is preparing for a road-trip to the United States to play four teams in the Midwest. Learn more about their up-coming USA road trip and involvement in their home country.
Where are you located?
2×4 Roller Derby is located in Buenos Aires, Argentina
When was your league formed?
We started in 2010, after a post on a website called "taringa" from a girl who saw the movie Whip It. We didn't understand at all, and there weren't others teams in Argentina, but something in roller derby called to our attention.
When did you join WFTDA?
2013
When did you graduate from the Apprentice Program?
February 2016. We will never forget that day!
How does your season run?
We practice and work all year; we don't have an off season. In the summer (January and February) we let the girls take 15 days free as "holidays."
What are the closest WFTDA leagues to you?
Here in Argentina we don't have another full member league, just one apprentice league the Sailor City Rollers. The closest full member league is in Sao Pablo, Brasil the Gray City Rebels.
How many skaters/teams do you have?
We have 50 skater and non-skater members. 3 travel teams and 3 home teams.
How is your league structured (home teams, travel team, management)?
We have 3 travel teams:
Team Osom (2×4 All Stars, our charter team) They are unbeaten and have two Latin American titles and four local titles.
Las PiBas (B team)
Team C
And 3 home teams:
Bully Chicks
Cowgirls From Hell
Bloody Furias
Our league is structured by committees who regulate different part of the league such as, finances, marketing, bouts, scrimmages, and officials.
Who is your biggest rival? And have you had any outstanding, memorable moments when you've played them?
Our biggest rival has always been Sailor City Rollers. We have never lost but our last game two months ago was very close and we were down at the half. It was a difficult and super fun game!
Do you have any sister/brother/junior leagues you'd like to give a shout out to?
We have our derby brats. We recruit girls from 15 years old. We are extremely proud of Persefone, Anesthesia and Kero, who graduated from brats and now play on our travel teams!
What are the individual challenges of your city?
Getting a good place to practice is really hard for all the teams in Argentina. The reason: FUTBOL. All the clubs where we can practice are rented mainly for futbol or other activities.
What are your biggest training challenges?
Try to reduce the difference in levels between our travel teams.
Not lose many skaters in the season and keep three full rosters all the time.
Tell us about your training facilities.
We train at Parque Chacabuco. It is a big park in Buenos Aires. The floor is really good but it is an open space with ceiling, so we have big problems when it rains and we have to rent another place.
Where do you hold your public games?
Our regular bouts we play in "Apanovi". We rent a bigger club for our annual tournament "Violentango."
How many days a week do you practice? How are your practices divided/organized among your teams/skaters?
Our travel teams practice Tuesday and Thursday from 7-10pm. The first hour is off-skates workout. Saturday we practice divided by level: 2pm, Team C, 4pm, Las Pibas, 6pm, Team Osom. Our fresh meat practice Monday, Wednesday, and Friday from 9-11pm.
Who are some of your star skaters on the track, and why?
Everyone is special and has a special role on the team. We have incredible jammers like Lula Zan, Tropical Mecanica, Rayo, Geor, Persefone and Pacman. Thank you to our magnificent blockers Maki and Papap who do an excellent job as captains of Team Osom and have organized the Team Osom road trip in August. Thank you Chinaski and Perra Loba as captains of Las Pibas. They have worked really hard all year and their team earned first place at "Torneo Sucio" last month. Congratulation Pibas!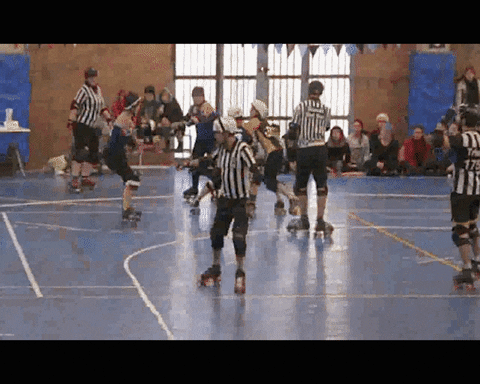 Who are some "behind the scenes" skaters/members who really help your league run?
Pato, the bench coach of Las Pibas. He works hard studying the team and keeping stats to help them grow. Also, Santi, "Muy bencho," Bench Coach of Team Osom who makes a great team with Animal, our coach right now until she get better due to her injury. Go Ani!!
What are some of your league's biggest accomplishments?
We have won the two Latino American tournaments, which had been our biggest challenge. We have maintained a high level as a team even as our competition improves. And most of all we stand up in hard moments like when we lose important skaters, coaches or have administrative problems.
Since its formation, your league has gone through numerous transformations and titles. What prompted the changes in those years and how has it shaped the current drive for your league?
It is absolutely true, we had a lot of transformations. But something never changed in all these years, and is the passion and effort with which we face our goals and our goal of being the best team in Latin America. That is what 2×4 is right now, effort, competition and the same passion. A competitive league who wants to play with the better teams in the world to know what else do we need to beat them.
Do you have any big games and/or other tournaments coming up that you're really looking forward to? Why?
This year we are going to travel to the third Latino American tournament in Chile. And next March our tournament Violentango 5. We hope someday we will compete at playoffs!!
Your league has been incredibly instrumental in the growth of roller derby in Argentina, from organizing training camps and marketing the sport to becoming the first full WFTDA member league from your country in February! What is the story behind your drive and ambition?
All of us are super involved in roller derby, and there is always one of us who bring an interesting idea. We always try to listen and make it happen. We try to be an example for other leagues, and help to encourage them to hold training camps or join the WFTDA. We look to the better leagues as an example and we love to know there are smaller leagues in Argentina who look to us as an example too.
In August, you are planning an incredibly journey to the United States to face off against four different teams in the Midwest. What can you share about this ambitious trip, who you plan to play and why?
We thought it was time to have a big challenge. And we had always thought about travel to the USA and play against big teams like those who we are going to play in August, so we thought: "Why not?" "What are we waiting for?" We are going to play against Kansas City Roller Warriors, No Coast, Oklahoma City and Arch Rival. We are going to use our strength factor challenge with Arch Rival. It is an honor for us that teams so important like them are available to play with teams like us.
We want to say thanks to them for the opportunity they gave us, it is a dream coming true. And a special thanks to Kansas City Roller Warriors who helped us a lot in the whole trip organization.
Who are some of your favorite sponsors?
Reaper Skates! Thank you for staying with us and help us with the trip!!
Do you have a special message for your fans?
Thank you, thank you for always being there, in the hard and in the good moments. For always trusting in us and letting us know that we can do whatever we set out to do.
Do you have any video footage from bouts or other events that you would like to share? Please provide a link to the footage and any content for viewers.
Our next event in Kansas City.
The economy crisis in Argentina makes this really hard, so we are looking to the derby community for help. We made a fundraising site, take a look! We have incredible rewards!
You can help starting at just $3!
---
Would your league like to be the WFTDA Featured League of the month? Have you had an extraordinarily successful season that you'd like to share with the wftda.com fans? If you are a full WFTDA member league and have the authorization to speak on behalf of your league, we'd love to hear from you! Or nominate your favorite league and tell us why they should be featured on wftda.com! Please contact .