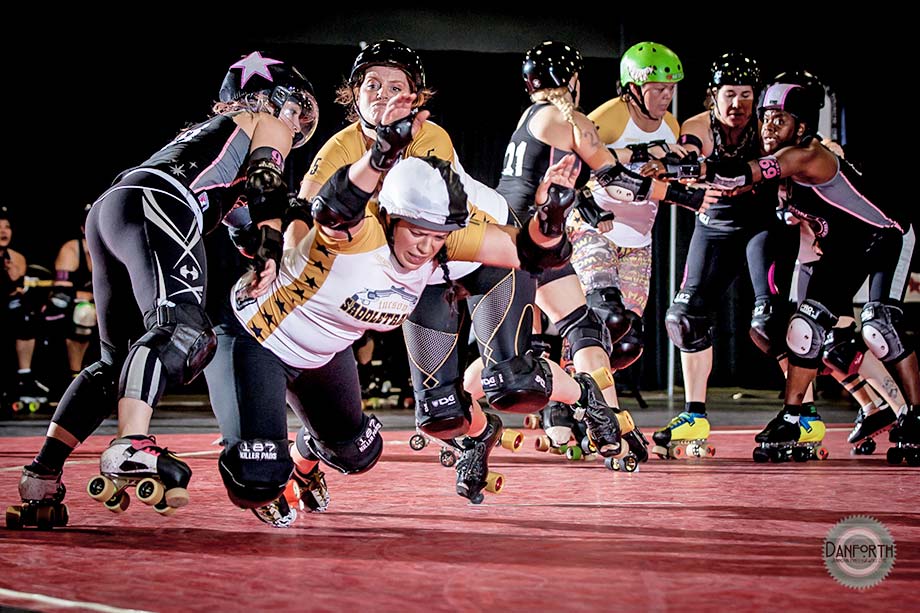 2016 D2 Playoffs Wichita Game 10: Houston (#2) vs Tucson (#6)
The Houston Roller Derby All-Stars of Houston, TX, USA (seed #2, WFTDA #43) will now play for fifth place in the 2016 International WFTDA Division 2 Playoffs Wichita after defeating the Tucson Roller Derby Saddletramps of Tucson, AZ, USA (seed #6, WFTDA #51), 197-173 on Saturday.
Houston proved why they came into the tournament with a high seed, dominating the consolation bracket game from the first whistle.
"We came in and wanted it a lot," Houston blocker Death By Chocolate said. "After yesterday [loss to #7-seed Blue Ridge Rollergirls] we were disappointed, and we wanted to go hard from jam one."
The Texas team jumped out to a quick 24-0 start before the Saddletramps got their legs under them. It was Tucson's second game of the day, having beat Chicago Outfit (seed #9) Saturday morning and losing a nail-biter to Nashville Rollergirls (seed #3) Friday.
Houston pulled away in jam 10 when jammer Slayor Moon made an 18-point run while her blockers Kelly Killpowski, Bustin' Beaver, and AcuPunchHer held Tucson's jammer back for a full 1:15.
With a total of 90 penalties in the game a full pack was rare; 23 penalties were called in the first 15 minutes of play. Tucson had the most penalties in the first half — on two occasions their jammers were sent to the penalty box twice in the same jam.
Short packs also meant a faster game. The slower sport court surface has been to the blockers' advantage during this tournament, but skaters in the penalty box meant both teams switched strategy and sped things up.
"At practice we're playing with two or three blockers, so we're used to playing low," Death By Chocolate said. "And when they're low, we create a distraction so they can't help their jammer."
Houston went into halftime with a 97-73 lead. Though each team scored exactly 100 points in the second half, with Tucson earning lead jammer status more frequently, Houston played steadily and held the advantage.
Houston opened up the second half with a 23-point punch by Slayor Moon, part of her game-high 102 points. Blockers Betty Watchett, 2x Force, Bustin' Beaver, and Kelly Killpowski helped keep Tucson at bay for the next several jams.
The Texas team bumped their lead to a 50-point spread midway through the second half, and looked to increase it when Tucson jammer Pixie Axe went to the penalty box. But Saddletramp blockers Juno Gnomi, Metal Maiden, Cherry Pop-Her, and Pinky McLovin effectively killed the power jam and forced a track cut on Houston's jammer. Pixie Axe returned to the track and scored 15 points.
That momentum sent Tucson on a 35-4 run, which cut into Houston's lead as the game ended.
Houston was led by Slayor Moon, Nikkity Split with 39 points, Arrak-kiss with 31, and Mad Cap'nCap with 25. Tucson's Pixie Axe had 52 points, Shana Banana Hammock had 39 second-half points for a game total of 47, Death Proof had 46, and Mystery Meat had 28.
Next: Houston advances to face the winner of Game 11 between the Kansas City Roller Warriors (seed #5) and the Boulder County Bombers (seed #8) for fifth place at 2 p.m. Sunday. Tucson will face the loser of Game 11 for seventh place at noon Sunday.
FINAL SCORE
Houston Roller Derby (seed #2, WFTDA #43) 197
Tucson Roller Derby (seed #6, WFTDA #51) 173