Rose City Takes Gold at First 2017 D1 Playoffs
The Rose City Rollers Wheels of Justice of Portland, Oregon, U.S. (#1, WFTDA #2) finished in first place at the 2017 International WFTDA D1 Playoffs Seattle, the first Division 1 tournament of the season. The two-time defending WFTDA champions beat the Angel City Derby Girls of Los Angeles, California, U.S. (#2, WFTDA #4), 227-120, on Sunday.
Rose City and Angel City both advance to the 2017 International WFTDA Championships in Philadelphia, Pennsylvania, U.S. from Nov. 3-5. They'll be joined by playoffs third-place finishers Montréal Roller Derby of Montréal, Quebec, Canada (#5, WFTDA #14), making their second appearance at champs, and host league Rat City Rollergirls of Seattle, Washington, U.S. (#6, WFTDA #16), who placed fourth.
Montréal had an impressive victory against Rat City in the third-place game with a 257-126 win. Montreal's Falcon Punch was the high scorer of the game with 137 points for The New Skids on the Block, which included a record-breaking 46-point jam in the 10th jam of the game when Rat City only fielded one blocker and one jammer on the track. This beat the previous WFTDA playoff record of 45 points scored in a single jam, set in 2013 by former Rose City jammer Scald Eagle.
Montréal had another big win earlier in the weekend when they upset Bay Area Derby of San Francisco, California, U.S. (#4, WFTDA #10), 203-154, in a repeat of the win that sent Montréal to champs for the first time in 2016 after upsetting B.A.D. at the Montréal-hosted playoff tournament.
Rat City had a big upset of their own this weekend when they defeated Jacksonville Roller Derby of Jacksonville, Florida, U.S. (#3, WFTDA #9), 186-170, in front of a hometown crowd.
The Seattle playoff weekend also marked the first D1 playoff appearance by 2×4 Roller Derby of Buenos Aires, Argentina (Seed #8, WFTDA #24), the first South American team to make a debut on the D1 playoff stage. They started their weekend with a win against the Windy City Rollers of Chicago, Illinois, U.S. (#9, WFTDA #28) who had beat 2X4 earlier this year at the Big O tournament held in Eugene, Oregon, U.S. 2×4 also defeated Ann Arbor Roller Derby (#10, WFTDA #30) and took a loss to Rose City.
Montréal jammer Falcon Punch was named the tournament MVP after putting up 335 total points in the tournament and earning lead jammer status 53.8 percent of her jams.
Congratulations to all the teams who participated in this playoff tournament weekend. Thank you to our host, Rat City Rollergirls, and all of the officials, photographers, medical staff, announcers and other volunteers who helped make this weekend possible.
The top four teams from this weekend will be joined by the top four teams of the two remaining playoff tournaments. The next round of games will be held Sept. 8-10 in Malmö, Sweden. Tune in to the 2017 International WFTDA D1 Playoffs at Tournament Central for more recaps and updates on the road to the Hydra.
If you missed out on any of the action this weekend, check out game photos and recaps at Tournament Central: Seattle. Video archives will be available at wftda.tv later in the week.
Download Final Brackets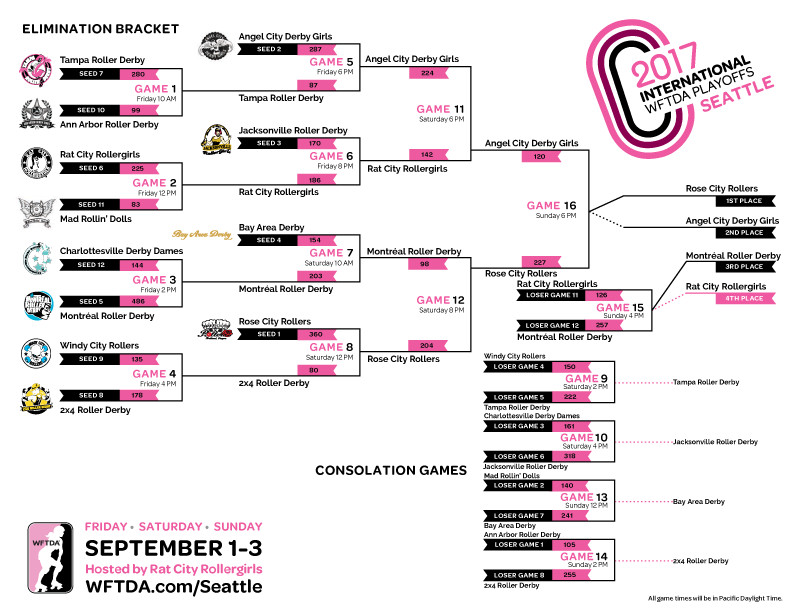 CLICK FOR PDF