Victory for Victoria to Cap Off the 2017 D1 Playoffs
Victorian Roller Derby League (Seed #1) of Melbourne, Australia, are taking another set of gold medals back home with them after they finished in first place at 2017 International WFTDA Division 1 Playoffs Dallas. Currently ranked first in the world for the WFTDA, Victoria beat the Texas Rollergirls (Seed #2) of Austin, Texas, U.S. in the final game of the tournament, 193-50.
Victoria had a strong showing all weekend long, starting with their commanding 314-50 win over Philly Roller Derby (Seed #8) of Philadelphia, Pennsylvania, U.S., on Friday night. The high scorer of the game was Victoria's Sarah Chambers with 111 points. The next day, the took another large victory over the Minnesota RollerGirls (Seed #4) of St. Paul, Minnesota, U.S., 329-36. This time, is was Victoria jammer Christy Demons with the triple-digit score, collecting 118 points towards Victoria's win.
After an outstanding weekend of blocking for the first-place team, Victoria's Biceptual was named the tournament MVP.
Earlier in the evening, Arch Rival Roller Derby (Seed #3) of St. Louis, Missouri, U.S. defeated the Minnesota RollerGirls 186-91 to secure their third-place finish. All four teams will advance to the 2017 International WFTDA Championships in Philadelphia, Pennsylvania, U.S., Nov. 3-5.
The tournament was hosted by the Dallas Derby Devils (Seed #10), who had a successful weekend themselves. The started their playoff performance with an upset victory of 170-162 over the Santa Cruz Derby Girls (Seed #7). After several lead changes, both teams went into the last jam tied with 162 points each. With a power jam in their favor, Dallas jammer Bayleigh Wheat was able to snag lead jammer status and throw 8 points on the board before ending the game.
Dallas had another upset this weekend when they defeated Arizona Roller Derby (Seed #9) of Phoenix, Arizona, U.S. 183-153, and took a 248-89 loss against the Texas Rollergirls in a hometown matchup that saw lots of great action on the track and vibrant energy from the crowds.
Another upset nearly occurred this weekend when the Atlanta Rollergirls (#5) of Atlanta, Georgia, U.S. narrowly lost a hard-fought game to the Minnesota RollerGirls, 146-144. It was a close matchup throughout, with quick work from jammers on both sides and an incredible display of defensive and offensive plays. Minnesota secured their two-point win in the final jam, along with their ticket to WFTDA Champs. Atlanta's Afro Dykee was the high scorer of the game with 81 points.
Congratulations to all the teams who participated in this playoff tournament weekend. Thank you to our host, the Dallas Derby Devils, and all of the officials, photographers, medical staff, announcers and other volunteers who helped make this weekend possible.
The top four teams of this weekend will advance to the 2017 International WFTDA D1 Championships with the top four finishers of playoffs from Malmö and Seattle. Tune in to see who will take the Hydra trophy on WFTDA.tv, and check in with Tournament Central for more recaps and updates.
If you missed out on any of the action this weekend, check out game photos and recaps at Tournament Central: Dallas. Video archives will be available at wftda.tv later in the week.
Final Results
First Place –  Victorian Roller Derby (Seed #1, WFTDA #1)
Second Place – Texas Rollergirls (Seed #2, WFTDA #6)
Third Place – Arch Rival Roller Derby (Seed #3, WFTDA #8)
Fourth Place – Minnesota RollerGirls (Seed #4, WFTDA #11)
Download Final Brackets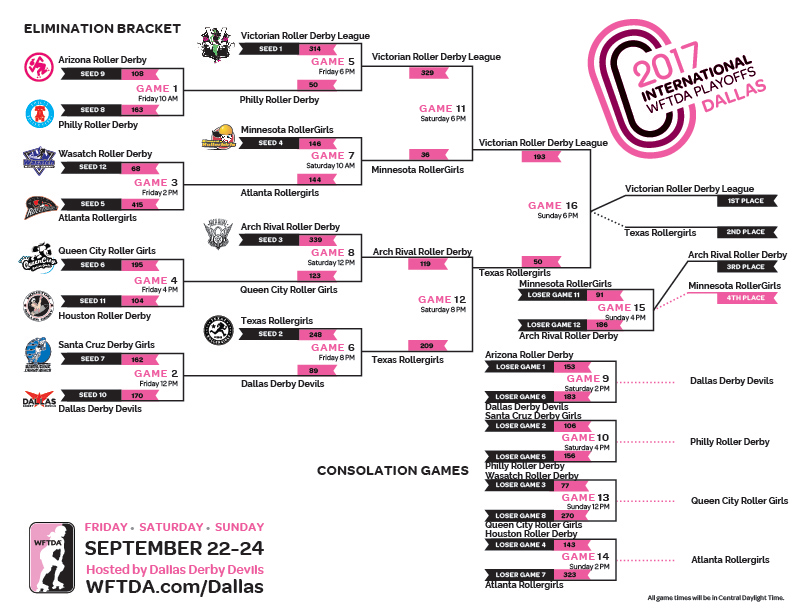 CLICK FOR PDF