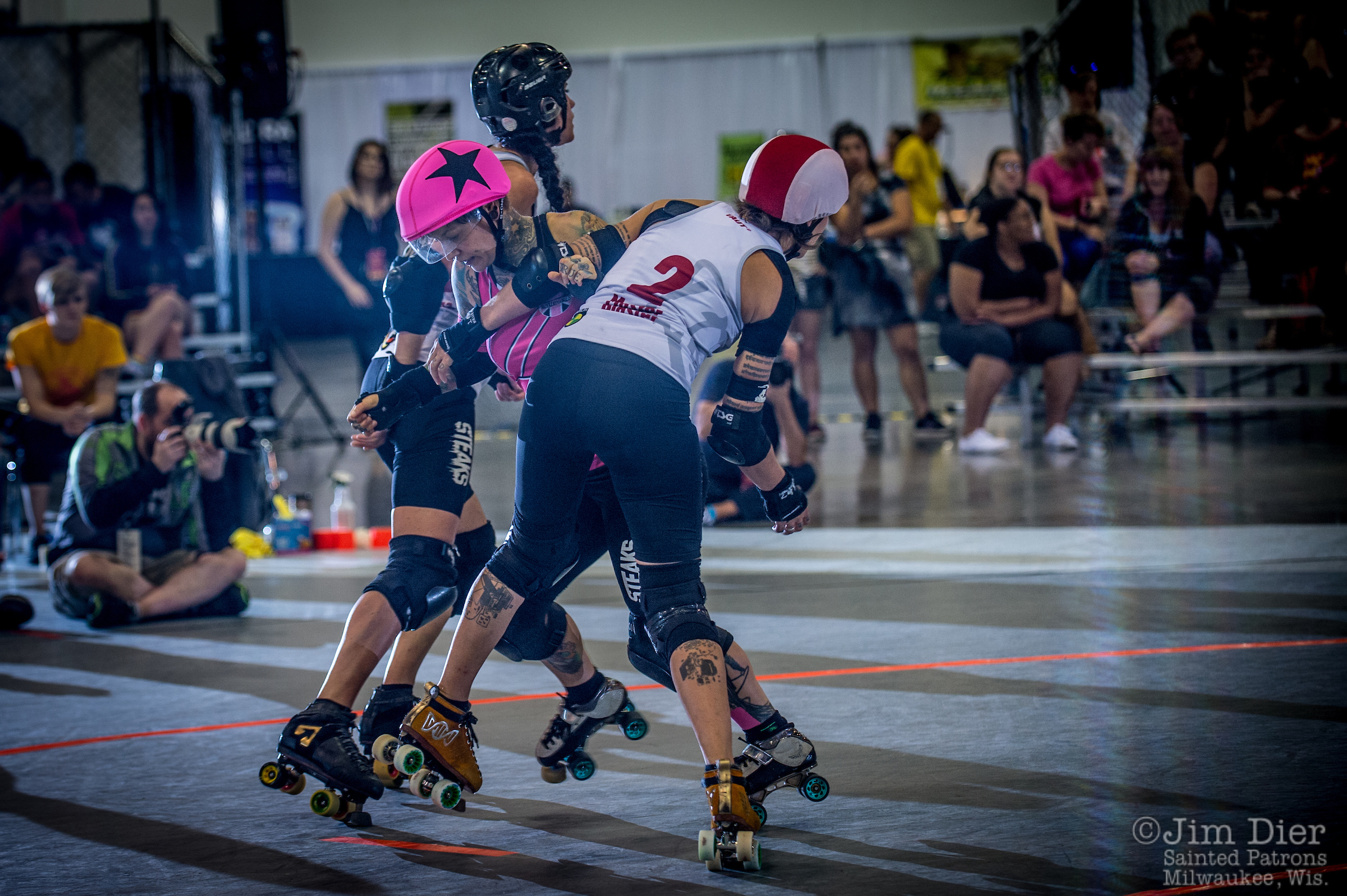 2018 Playoffs Atlanta Game 1: Bear City vs. London
Bear City Roller Derby (Seed #12, WFTDA #32)  v London Rollergirls (Seed #5, WFTDA #14)
58
250
The London Rollergirls of London, England (Seed #5, WFTDA #14) kicked off the 2018 International WFTDA Playoffs Atlanta with a strong showing, defeating Bear City Roller Derby of Berlin, Germany (Seed #12, WFTDA #32) decisively, 250-58, and making a case for a possible medal placement on Sunday along with a spot at the 2018 International WFTDA Championships New Orleans.
London was first to put points on the board with a quick 3-0 from Delta Strike, but a penalty in the following jam for Jack Attack gave Bear City a power jam advantage, and Miss Zoffi used the opportunity to respond with three unanswered points of her own. Though early, a 3-3 tie score at the end of the second jam hinted that it could be anyone's game.
@ldnrollergirls looking strong AF in their first game this weekend. Killing it with what seems like a newer charter. Love how they've kept their mojo even when adding new folks. #talk2wftda #iheartArocha

— Jackie Gilbert (@jacqaluyan) September 21, 2018
The outcome at this point was unpredictable, especially considering the transformations both teams experienced over the past season, and that it was their first time meeting together in the WFTDA postseason. London has had a "rebuilding" year, with blocker retirements and transfers, along with the loss of their fan-favorite jammer Rogue Runner.
Bear City's trajectory, on the other hand, has been for the most part positive, as they ascended the WFTDA rankings from #50 to #32 and earned a spot in the WFTDA Playoffs for the first time — making them the first German team ever to do so.
"This season was B-A-N-A-N-A-S", team captain Catherine-Beat-Her Bonez said in a press release about the historic postseason placement on Bear City's website.
But London's institutional experience and seasoned veterans ultimately proved to be more successful. Following the 3-3 tie at the end of the second jam, London pulled ahead, consistently grabbing lead jammer status and putting up multiple scoring passes in a single jam. They maintained the lead through the rest of the game, increasing their margin slowly with strong, gravity-defying jamming, aggressive offense, and relentless, recycling defense. By halftime, London had secured a 148-26 lead.
London also showcased a deep jammer bench — including Carley McAdam, Jack Attack, and Dyduch — which Bear City struggled to lock down. The Berlin defense was quick to set up in a formation, but was unable to retain a "tripod" against London's offensive strikes that were effective in plowing spaces for their jammers to either plunge into or speed away from. Meanwhile, London blockers Onyeka Igwe, Juke Boxx, and Gaz were fierce in their one-on-one play, keeping Bear City's jammers from sneaking through on the lines and recycling them back into slow, grinding three-person walls.
Though they were unable to earn lead jammer status, Bear City was successful in slowing down the London scoring runs, and displayed especially impressive defense when left alone to focus on the opposing jammer and not having offense to contend with. But even a burst of momentum toward the end of the second half with a few back-to-back power jams in their favor, along with a natural lead jammer status picked up by Berlin's Mia Missle with five minutes remaining in the game, wasn't enough to overcome the decided lead. London closed the game with a 250-58 victory.
Sports are fun and London too good #talk2wftda

— Fight of the Conchords 🎉 (@stenchblossoms) September 21, 2018
In a postgame interview with WFTDA.tv, Juke Boxx explained that "Getting a win, executing well, expending as little energy as possible — knowing that we've got a really tough game against a great opponent, Atlanta, tonight," was London's main goal entering the first game of the tournament. "We're really looking forward to that game. We're very prepared."
London will play tournament hosts, the Atlanta Rollergirls of Atlanta, Georgia, U.S. (Seed #4, WFTDA #11) at 8:20 p.m. EDT on Friday. Bear City will next play in the consolation bracket at 4 p.m. EDT Saturday.
Back to 2018 International WFTDA Playoffs Atlanta Tournament Central