Arch Rival Roller Derby Wins 2018 International WFTDA Playoffs A Coruña
Arch Rival Roller Derby of St. Louis, Missouri, U.S. (Seed #1, WFTDA #5) took the gold at the 2018 International WFTDA Playoffs in A Coruña, Spain after defeating the Crime City Rollers of Malmö, Sweden (Seed #3, WFTDA #10) on Sunday in the final game of the weekend.
Both teams had secured a spot at the 2018 International WFTDA Championships in New Orleans, U.S. the previous day. Arch Rival defeated Rainy City Roller Derby of Manchester, United Kingdom (Seed #4, WFTDA #12) and Crime City took the win against Angel City Derby of Los Angeles, California, U.S. (Seed #2, WFTDA #8). Angel City took the bronze in Game 15 of the tournament, beating Rainy City 174-146.
The top three teams advance to compete in the 2018 International WFTDA Championships in New Orleans, Louisiana, hosted by the Big Easy Rollergirls November 9-11.
The weekend was a milestone for the Spanish-speaking roller derby community as the first WFTDA Playoff tournament to take place in Spain, with two South American teams competing in the tournament: the Sailor City Rollers and 2×4 Roller Derby, both from Buenos Aires, Argentina. It was also the first WFTDA Playoff tournament ever to feature Spanish commentating.
The tournament MVP went to Bricktator of Arch Rival Roller Derby for her exceptional athletic performance throughout the weekend — scoring a total of 325 points with an 89% lead average. She was also selected for her strong, positive presence and leadership on and off the track, and for continuing to be an inspiration within the roller derby community and in our sport.
The Derby on Toast Bracket Challenge had no perfect brackets, but 9 people correctly predicted 15/16 games. Thumbcuff was chosen by random drawing to receive a free WFTDA.tv watch pass and tickets to Championships in November.
Congratulations to all of the participating teams, and thanks to all the officials, announcers, photographers, and other volunteers who made the weekend in A Coruña such a success! Special thanks go out to tournament hosts As Brigantias Roller Derby for welcoming the WFTDA community to beautiful A Coruña.
If you missed out on any of the action this weekend, check out game photos and recaps on the A Coruña tournament page, and watch the game archives on WFTDA.tv later this week.
Final Results
First Place – Arch Rival Roller Derby of St. Louis, Missouri, U.S. (Seed #1, WFTDA #5)
Second Place – Crime City Rollers of Malmö, Sweden (Seed #3, WFTDA #10)
Third Place – Angel City Derby of Los Angeles, California, U.S. (Seed #2, WFTDA #8)
Fourth Place – Rainy City Roller Derby of Manchester, United Kingdom (Seed #4, WFTDA #12)
Download Final Brackets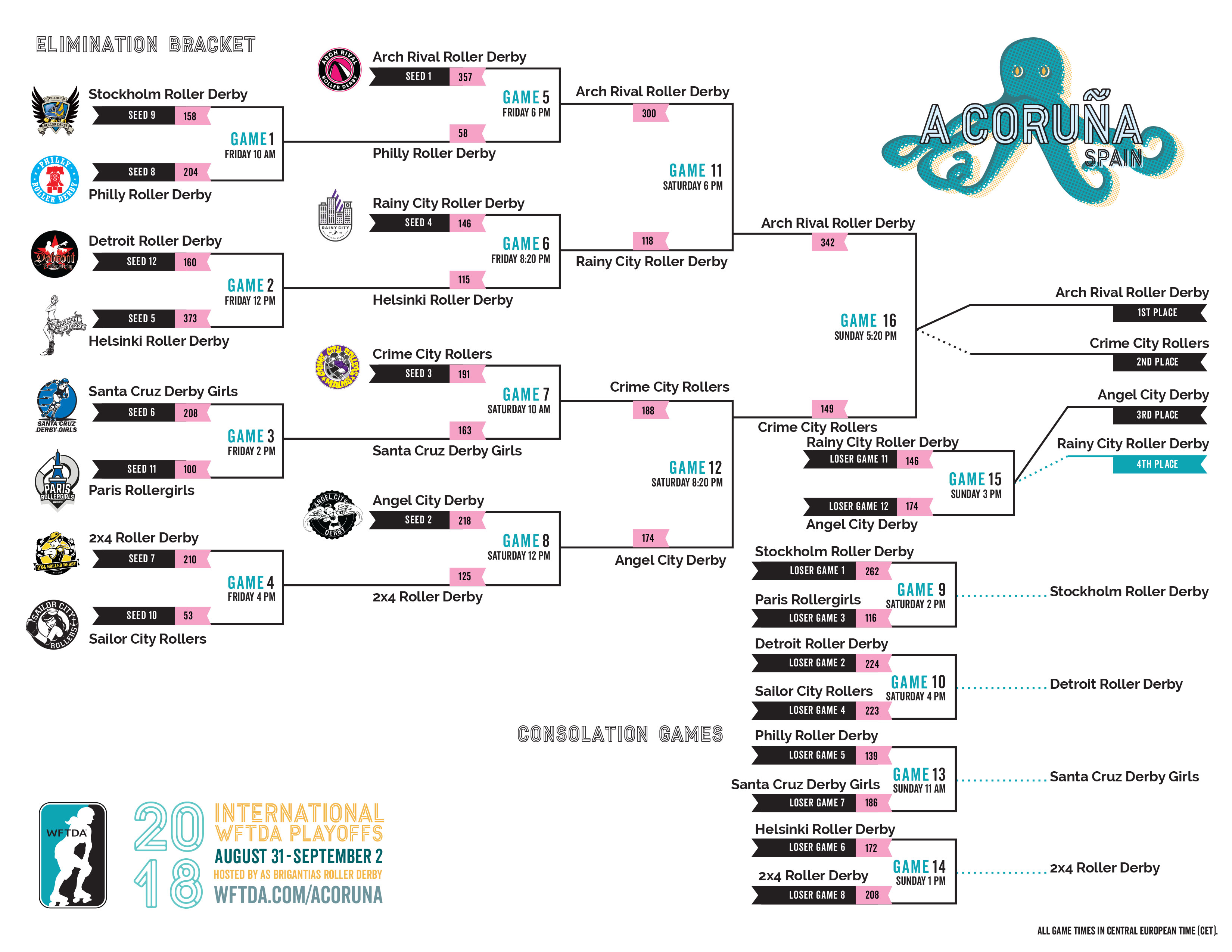 Download: US Letter PDF | A5 PDF