2018 Playoffs A Coruña Game 13: Philly vs. Santa Cruz
Philly Roller Derby (Seed #8, WFTDA #21) vs. Santa Cruz Derby Girls (Seed #6, WFTDA #16)
139
186
In a rematch of a 2017 Playoff game, the Santa Cruz Derby Girls of Santa Cruz, California, U.S. proved victorious this year with a 186-139 win over Philly Roller Derby of Philadelphia, Pennsylvania, U.S. in Game 13 of the 2018 International WFTDA Playoffs A Coruña.
Last year Philly took the upset victory by a 50-point margin. This year both teams picked up some key transfer skaters, improved their overall WFTDA rankings slightly — and Santa Cruz came out on top in this consolation bracket game.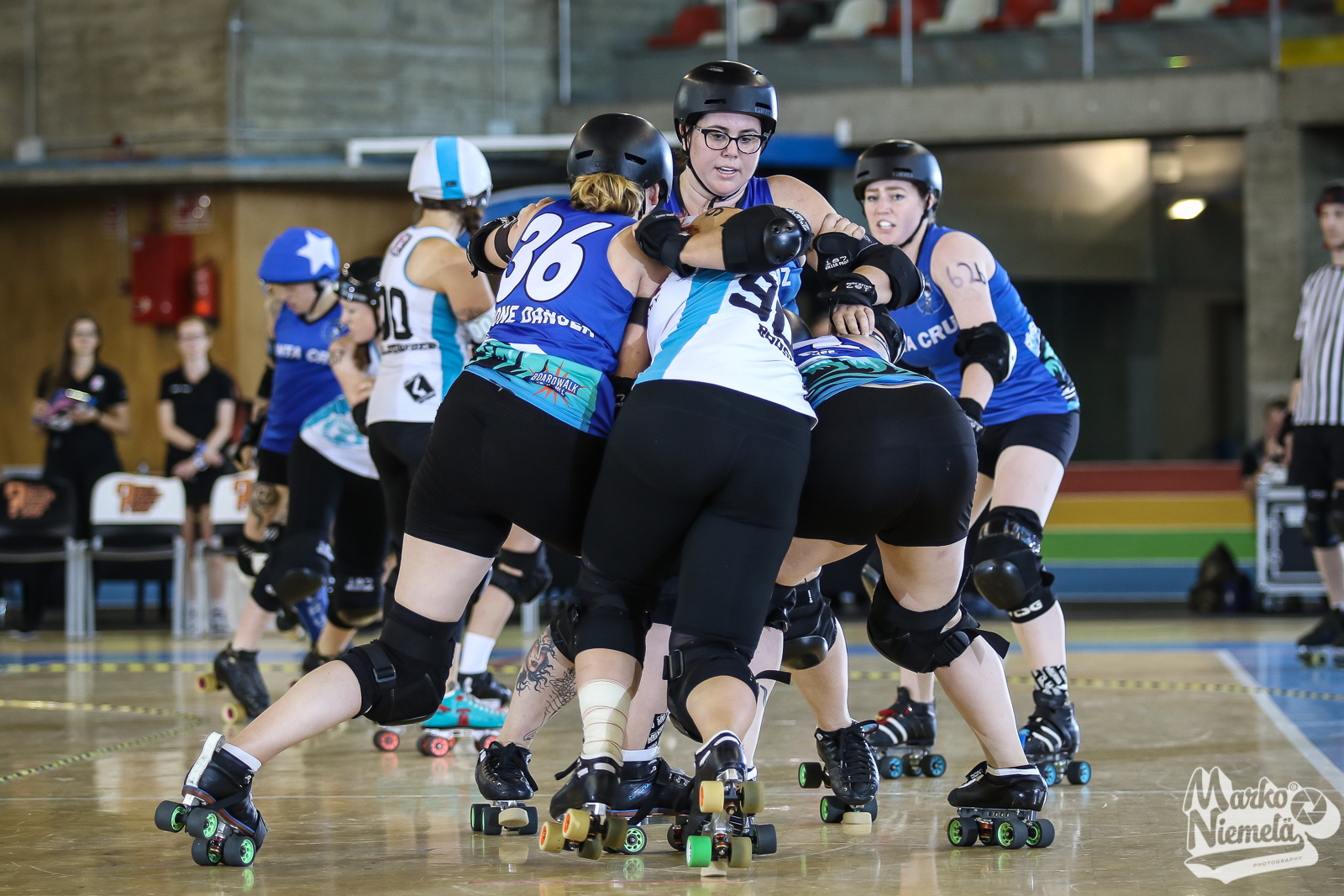 Philly calls the tripod a cheddar, because it is a solid wedge, not holey like Swiss. #talk2wftda #TheMoreYouKnow

— [Rocky theme music intensifies] (@ebruisevelt) September 2, 2018
The first half of this year's game was laden with jammer penalties — six for each side. But Santa Cruz used a deep roster to field six different jammers, and those fresh legs generated more points with their time on the track. Boardwalk Bombshell jammer Yeti or Not, Here I Come opened up the game with a 20-point jam, and while Philly took a brief lead after Jam 5, the California squad took a 40-point lead into the half.
Really enjoying seeing more jammers be knocked down, only put one hand out of the track, both feet inside the track, wait for blockers to skate away to try & recycle them & then the jammer stands up & keeps skating. Knowing the rules helps. #talk2wftda #sunsandderby #DerbyTwitter

— Dalia (@daliafleming) September 2, 2018
The second half was more of a back-and-forth affair, but Santa Cruz cleaned up their penalties and focused on quick point-scoring jams, often shutting out Philly for several jams at a time. The Bombshell defense also worked to contain scoring passes, resulting in a few jams where Santa Cruz didn't get lead jammer status but managed to score more points than the Philly jammer who did. But the Liberty Belles finished the game strong with a 36-7 run and solid defense from Teflon Donna.
"We were feeling more prepared to come into this tournament than any other tournament before," Santa Cruz jammer Skirt Vonnegut told WFTDA.tv after the game. "We were excited to show the world the awesome new moves and plays we've been working on. I think we executed them, and had a lot of fun."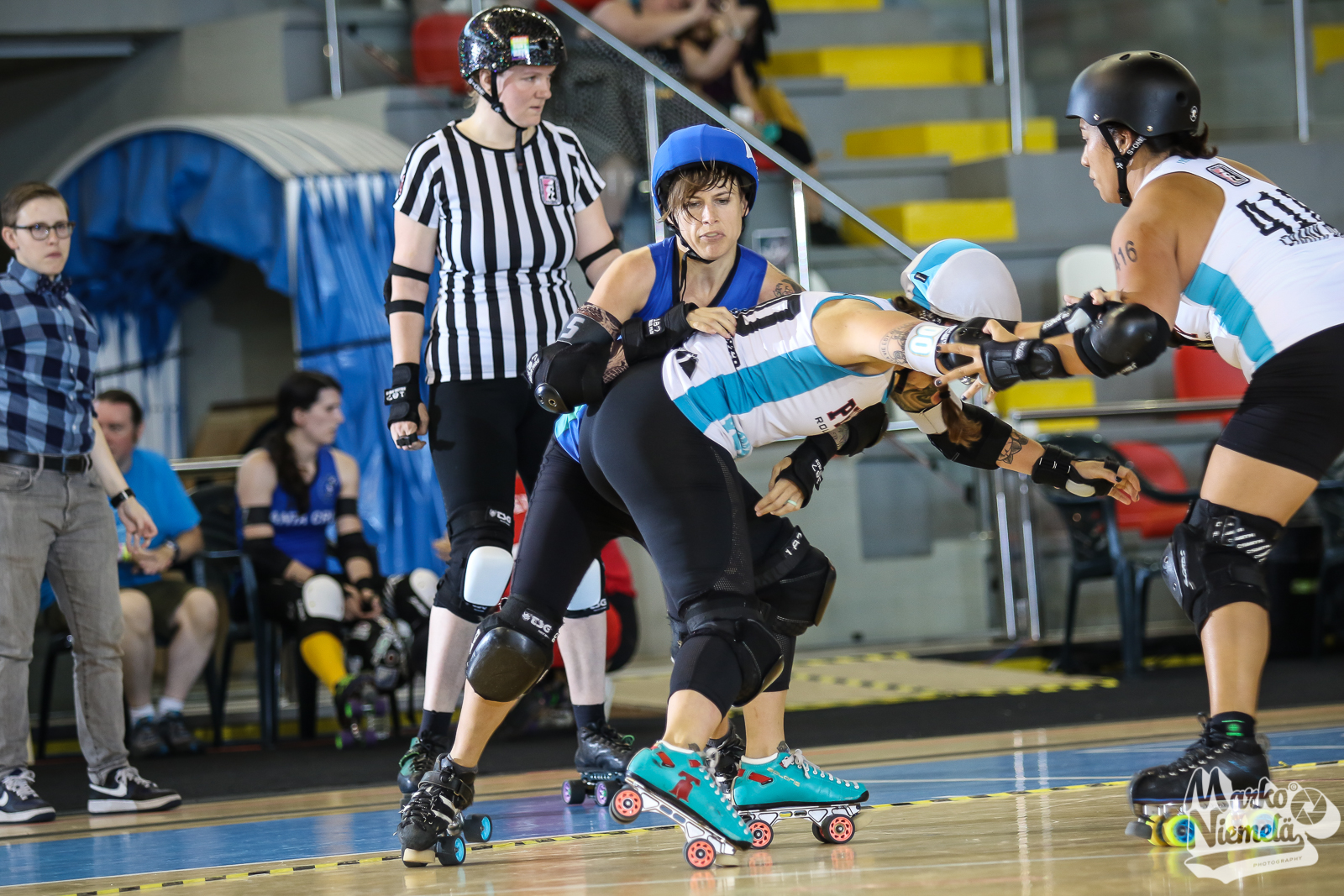 Watching Skirt Vonnegut's lateral movement on the jam line and then through the front of the pack was making me do this in my seat: #talk2wftda pic.twitter.com/dFb5jzbkrn

— Lawrence of a Labia (@LawrenceOLabia) September 2, 2018
Skirt Vonnegut led Santa Cruz with 53 points, while Yeti or Not, Here I Come had 42 and Run Jeremy had 32, both as a starting jammer and star-pass-recipient pivot. The Bombshells were led defensively by Ace Wenchura, captain Shamrock N. Roller, and Beans.
Philly's Rousey led all scorers with 54 points, while Herrmann Monster had 51. Defensive standouts for the Liberty Belles were Crank DaT, Jail Bars, Traumagotchi and Sarah SuckADee Sanders.
Back to 2018 International WFTDA Playoffs A Coruña Tournament Central