2018 Playoffs A Coruña Game 14: Helsinki vs. 2×4 Roller Derby
Helsinki Roller Derby (Seed #5, WFTDA #13) vs. 2×4 Roller Derby (Seed #7, WFTDA #18)
172
208
In a thrilling back-and-forth game at the 2018 International WFTDA Playoffs A Coruña, 7th seed 2×4 Roller Derby from Buenos Aires, Argentina capitalized on some key late-game penalties to pull off the upset of 5th seeded Helsinki Roller Derby from Helsinki, Finland.
*turns on Helsinki vs 2×4* ohhhhh this game is FIRE! #derbyTwitter #talk2wftda

— Commando Roll is Halal Certified (@hazchem) September 2, 2018
The parity between the two teams was evident from the start. Helsinki nabbed the first two lead jammer statuses, but 2×4 responded with what was not only their first lead jam but a power jam as well — tying up the score for the first but certainly not last time. Power jams would become an important theme for these two teams, as neither was able to put up big scoring runs with both jammers on the track. It quickly became apparent that whoever won the jammer penalty battle would likely win the game.
The teams traded the lead a full six times in the first half, with the largest score differential being only a 17 point advantage for 2×4. 2×4's Tropical Mecanica was lethal on several power jams, putting up scores of 18-0 and 15-0 to head 2×4's offensive charge. MIA put up Helsinki's largest point total with a 13-8 jam as the game went into halftime and 2×4 held a slim 90-84 lead. Though Helsinki had a slight advantage in lead jammer statuses awarded (11 to 2×4's 10) 2×4 was able to effectively counter that with quick star passes that forced Helsinki to call off jams before doing much damage.
I'm honestly living for this bilingual announcing. MORE OF THIS PLEASE, @WFTDA . #talk2wftda

— Scarmitage Hux (@pinkteacozy) September 2, 2018
The second half picked up right where the first left off, with each team struggling to establish an advantage over the other. With a big 12-0 jam minutes into the period, Kujala helped earn Helsinki the 7th lead change of the game, but it would be short-lived. Just 2 jams later Tropical Mecanica and the 2×4 blockers put up a 15-0 in one of the rare instances of a multiple scoring pass jam that was not also a power jam. But moments later Helsinki regained the lead and over the next several jams, managed to stretch their advantage out to 20.
The irrepressible Tropical Mecanica responded by dropping a powerful 19 point jam to bring the game back in 2×4's reach. Two more lead changes later, Helsinki clung to a mere two point advantage with only moments left in gameplay.
Kujala for Helsinki and Loba for 2×4 faced off in what would be the penultimate jam, with Loba earning lead and Kujala earning an unfortunately-timed track cut penalty. 2×4 pounced on the opportunity, and by the time the fourth whistle blew, 20 points had been earned by the team from Buenos Aires. Helsinki had one last chance to capture the lead before time ran out, but another jammer penalty sent Malou to the penalty box and left Tropical Mecanica scoring unopposed. As the game ended, an additional 23 points went up for 2×4 and they had earned the hard-fought win with the largest point differential of the entire game, 208-172.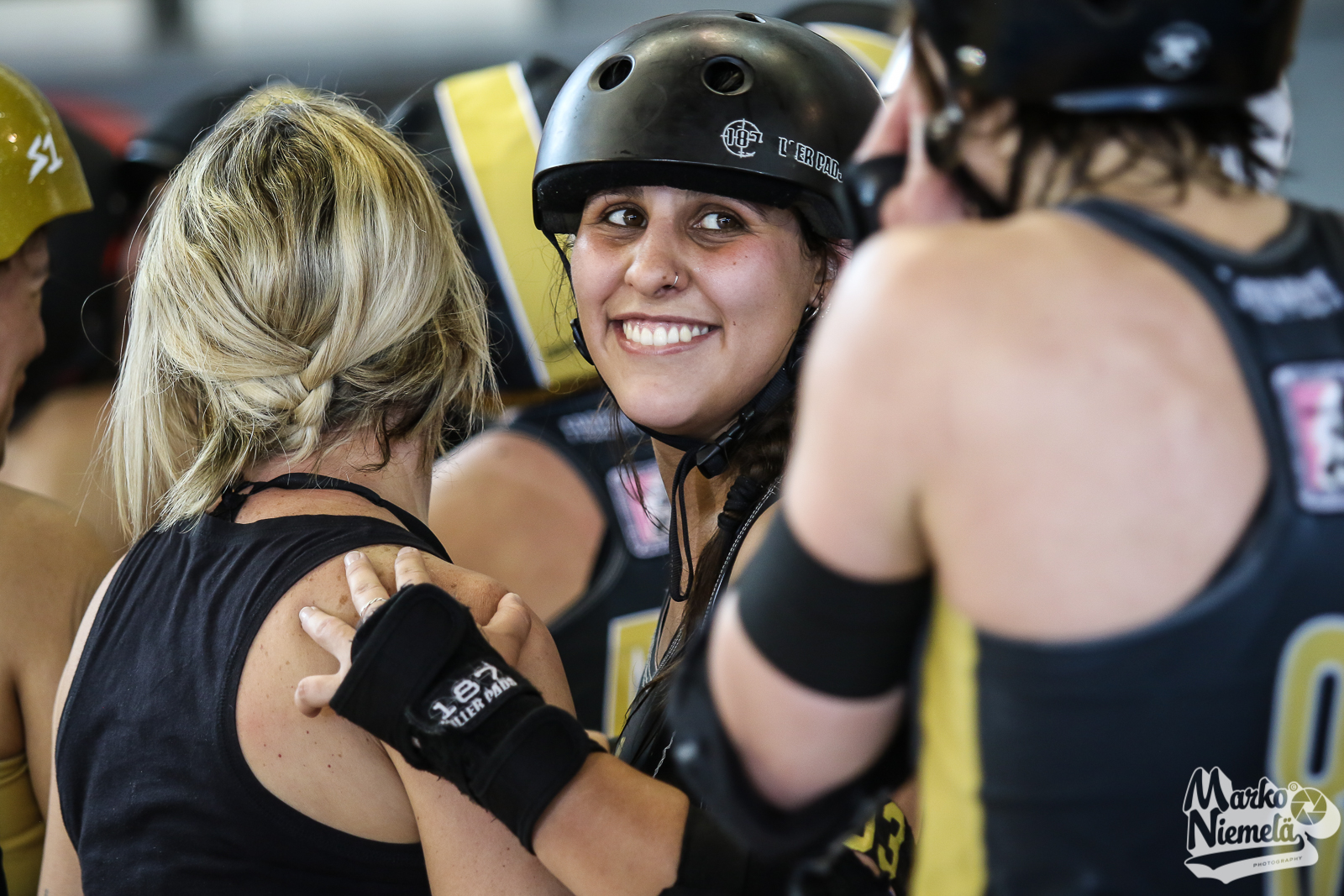 Back to 2018 International WFTDA Playoffs A Coruña Tournament Central