2018 Playoffs A Coruña Game 15, Third Place Game: Rainy City vs. Angel City
Rainy City Roller Derby (Seed #4, WFTDA #12) vs. Angel City Derby (Seed #2, WFTDA #8)
146
174
After an upset loss in Saturday's semifinal, Angel City Derby of Los Angeles, California, U.S. (Seed #2, WFTDA #8) earned third place and secured a trip to the 2018 International WFTDA Championships New Orleans with a 174-146 victory over Rainy City Roller Derby of Manchester, United Kingdom (Seed #4, WFTDA #12) in Game 15 of the 2018 International WFTDA Playoffs A Coruña on Sunday.
That game was a FIGHT. Well done to everyone involved. #talk2wftda

— Scarmitage Hux (@pinkteacozy) September 2, 2018
Angel City will join Arch Rival Roller Derby of St. Louis, Missouri, U.S. (Seed #1, WFTDA #5) and Crime City Rollers of Malmö, Sweden (Seed #3, WFTDA #10) as representatives from the 2018 International WFTDA Playoffs A Coruña at Champs.
In the third place game, there were four first-half lead changes before Angel City picked up the pace and went on a 55-1 run to take the commanding lead. Angel City's swarming defense — including Tui Lyon, Boo Gogi, Soledad — kept things locked down. Mr. 305, Dalè! single-handedly put up half of Angel City's points in the first half, and finished the game as the high scorer with 75 points.
"They're a really good team," Mr. 305, Dalè! told WFTDA.tv. "I didn't want to go into this game thinking we had it in the bag, but I'm really ecstatic to have another win with Angel City, and we're going to Champs!"
Angel City had just one jammer penalty in the first half, while Rainy City jammers took four trips to the box. But Rainy City's blockers, led by captain Ruthless Philly and Missy Rascal, helped keep power jam point scoring at bay.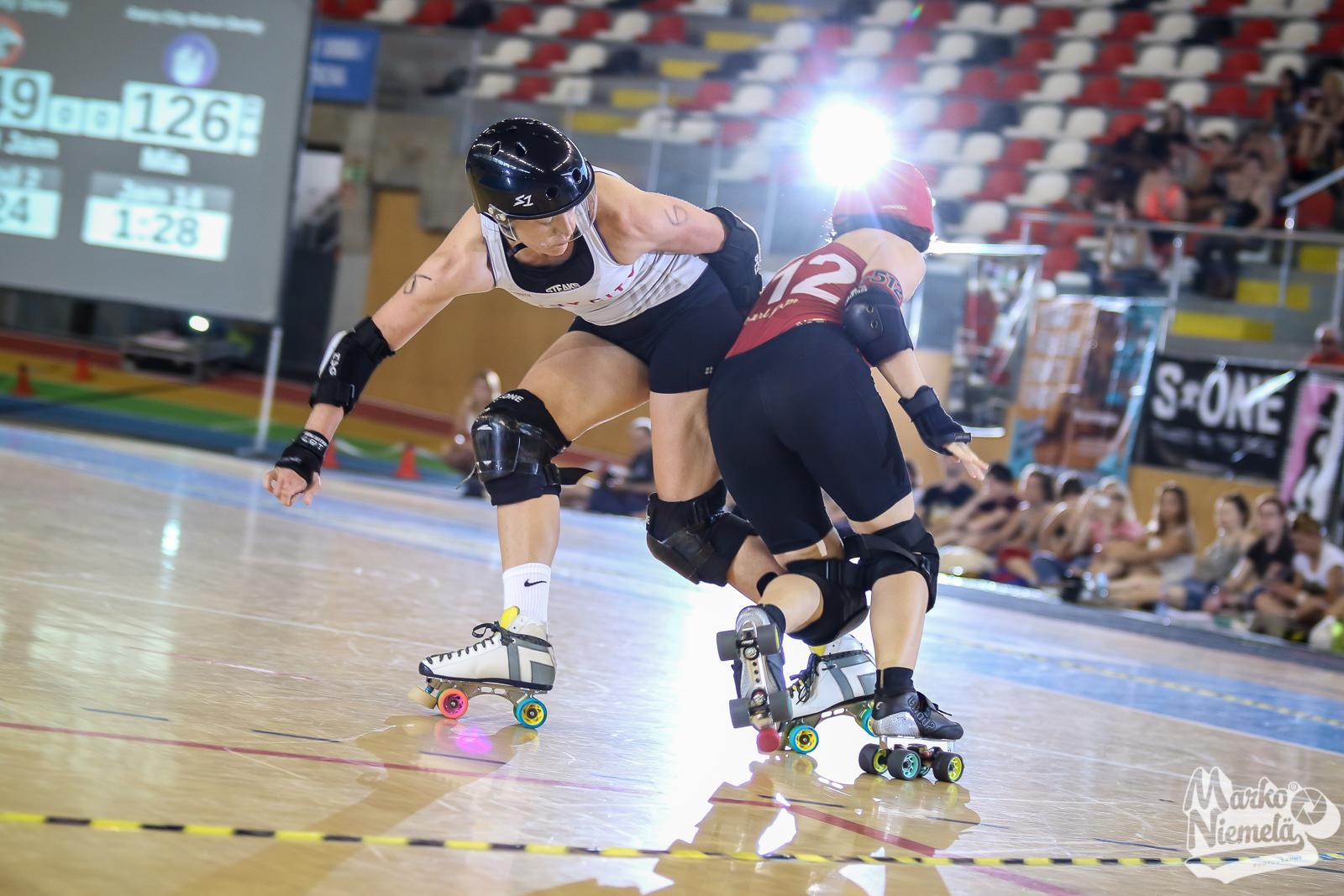 The Manchester team seemed more focused coming out of halftime and went on a 34-0 run in the first six jams of the second half. But three consecutive jammer penalties gave Angel City the advantage, and the Hollywood Scarlets returned to their point-scoring ways.
Alex Wilde in the box I AM DOING CPR ON MYSELF WHILE WRITING THIS TWEET. #talk2wftda #WFTDAPlayoffs #derbytwitter

— Attitude & Pointe (@attitude_pointe) September 2, 2018
In addition to the performance of Mr. 305, Dalè!, Angel City's Rachel Rotten had 54 points and Pearl Jam had 45. For Rainy City, Fairy Quake had 58 points and Alex Wilde had 41.
"I think that's the best game we played all weekend. We played our game, we just couldn't pull it out," Rainy City pivot Lily Gaskell told WFTDA.tv.
Awesome work @wearerainycity so sad you're not going to Champs but you played your guts out 💜 #talk2wftda

— Treble – Central City Roby Doby (@treblemaker909) September 2, 2018
Back to 2018 International WFTDA Playoffs A Coruña Tournament Central