2019 Championships Game 4: Angel City v Victoria
Angel City Derby (Winston-Salem #1) v Victorian Roller Derby League (Seed #3)
88
169
The Victorian Roller Derby League of Melbourne, Victoria, Australia (Seed #3, WFTDA #2) sent a strong, steady statement with a tournament-opening win over Angel City Derby of Los Angeles, California, U.S. (Winston-Salem Playoffs #1, WFTDA #6) on Friday at the 2019 International WFTDA Championships Montréal. The Australian team's victory over the winners of the Winston-Salem Playoffs demonstrated just how much talent is at the top of the WFTDA rankings, as both teams are top-six internationally.
The Victorian All Stars have perfected the circular lockdown defense, which the team has used for years. That defense kept the usually stellar jammer rotation of Angel City's Hollywood Scarlets in check, and penalty trouble for the Los Angeles team allowed Victoria's jammers to rack up points.
Victoria jumped out to a quick lead early in the first half, but Angel City countered and there were a pair of early lead changes. But the Australian team began to pull away on the strength of a 15-point jam by Curly Burly. That launched Victoria toward a 38-0 run in the back half of the first period, which included a 12-point jam by Spinach.
In Jam 15 of the first half, Angel City had its first opportunity for a power jam, but Victoria blockers Slamazon, Bicepsual, and Kelly Walker had a full 30-second penalty kill. The jam ended with no score and no lead jammer for either team. Victoria's defense prevented the opportunity for the momentum to shift, and the All Stars took a 89-42 lead into halftime.
In the second half, Victoria continued to build the lead on several low point scoring jams as opposed to blockbuster runs. They held Angel City scoreless for a stretch of six-straight jams midway through the half and capitalized on a 60 percent lead jammer status rate in the game.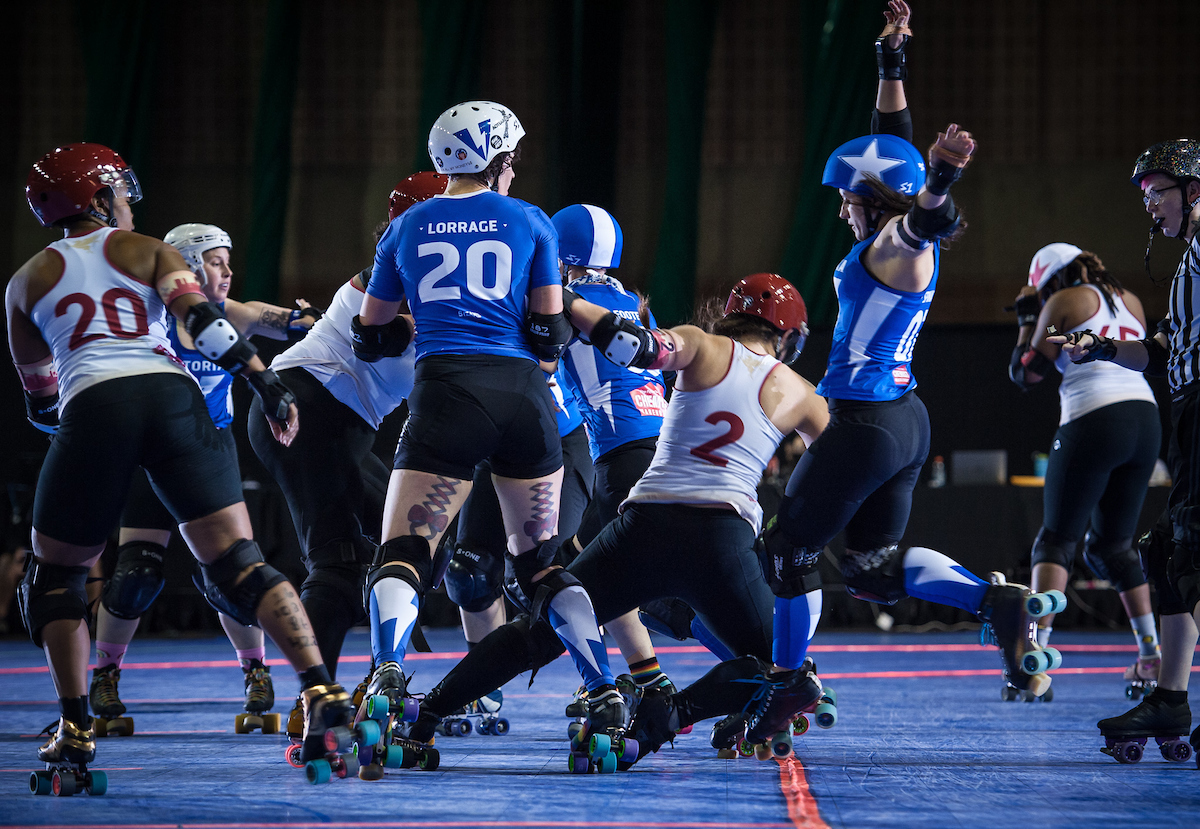 Victoria utilized a deeper jammer rotation than they have in previous Championships games, sending a total of six jammers to the line. And those jammers provided the audience with a thrill, including the time in Jam 18 of the second half when Sarah Love came out of the penalty box and right into an apex jump to score points.
Victoria's Spinach led all scorers with 42 points, while Sarah Love had 39, Curly Burly had 30, and Anna Pave-U'Ova had 26. Defensive standouts were Bicepsual, Slamazon, Kelly Walker, Bianca Sciarretta, and Dani Darko.
Speaking of her team's defense, Spinach said after the game, "It's tough playing every weekend against my defense, I feel bad for anyone who has to go against the defense I have to. But I'm prepared because I have to face my defence every single week."
Angel City was bitten by penalties, accumulating 19 in each half. Victoria had a total of 14 in the game. Working with a blocker deficiency hurt the Scarlets, who were unable to score even with the opportunity of a power jam start. Angel City's Hoosier Daddy finished the game with a strong 12-point last jam, demonstrating what might have been with a fully staffed crew on the track.
Angel City was led by Hoosier Daddy with 28 points, Rachel Rotten with 27 and Darby Dagger with 21. The Scarlets were led defensively by Tui Lyon, CrackHer Jack, Death Down Under and Psycho.
Tui is all goals. Blocker, pivot, solo, double, pack, style, tenacity, voice, courage, socks. @AngelCityDerby #WFTDAChamps #love

— NikkiBeast (@nikkibeejungle) November 15, 2019
Victorian advances to face either Gotham Girls Roller Derby of New York City, New York, U.S. (Seed #2, WFTDA #3) or host team Montréal Roller Derby of Montréal, Québec, Canada (Seattle Playoffs #2, WFTDA #8) on Saturday. Angel City moves to the consolation bracket and will face Denver Roller Derby of Denver, Colorado, U.S. (Seattle Playoffs #1, WFTDA #4) on Saturday.
---
Tune into WFTDA.tv for live coverage of the 2019 International WFTDA Championships and don't miss a hit!
Visit 2019 International WFTDA Championships Tournament Central