WFTDA Releases June 30 Rankings, 2019 Postseason Seeding and Brackets
It's one of the most wonderful times of the year in roller derby — WFTDA postseason seeding day! Today, the WFTDA released the latest rankings of its member leagues, which reflect games played through June 30, 2019, used to determine the seeding for the postseason brackets. See the current rankings at https://stats.wftda.com/rankings.
The 2019 WFTDA Continental Cups and International Playoffs and Championships tournaments are hosted around the world with different host leagues and cities each year. These highly anticipated events showcase the best of women's flat track roller derby's athletes and teams, creating some of the most competitive match-ups of the year.
Tickets are on sale now for all of the 2019 postseason events at WFTDA.com/tickets.
Don't forget, Junior Roller Derby participants between the ages of 11 to 17 (kids 10 and under get in free) can get a 3-Day pass for Playoffs for just $30.00 USD with the special codes below. Note that ID will be checked at the door for all juniors using this ticket.
Juniors heading to Winston-Salem use juniorsws for your discount.
Heading to Seattle? Use juniorssea and we'll see you there!
Seeding the Postseason Brackets
The 2019 postseason is organized using a competitive S-curve seeding system for all brackets. The top four ranked teams automatically received an invitation and top seeding at the International WFTDA Championships. Following this invitation, the next 24 ranked teams were seeded into two Playoffs tournaments. If a team declined their invitation, the next-ranked team was moved into their spot and a team from the Continental Cups was moved up to Playoffs. Once all the Playoffs spots were filled, the next eligible teams were seeded regionally into their respective Continental Cup. Regions without a Cup are assigned to the closest region: Asia Pacific (with the exception of Western Australia) to the North America West Cup, Western Australia to Europe, South America to the North America East Cup, and Africa to the European Cup. In 2019, the North America Cups are 12-team brackets and the European Cup is an 8-team bracket.
If a team declined this invitation, the next eligible team from that region was offered a spot. For information on tournament policy, including the seeding process, read more here.
The 2019 postseason features the most globally diverse competition in WFTDA history, with eight European teams making the Playoffs, five Australian teams making Cups and Playoffs, and two South American teams making both a Continental Cup and a Playoffs bracket.
Unfortunately due to league decisions, Canberra Roller Derby had to decline their invitation to Playoffs, Houston Roller Derby declined its placement in the North America-West Cup, and Middlesbrough Roller Derby declined its placement in the European Continental Cup. Terminal City Rollergirls was excluded from the S-Curve as they were unable to meet the 2019 4-sanctioned game requirement during the competitive season.
Once seeded, the WFTDA made two location switches to accommodate the needs of member leagues. 2×4 and Crime City were swapped locations, as well as Atlanta and Stockholm.
The brackets released today are without game times. Game order is subject to change when game times released.
The Top 4 Teams in the World are Already Going to Championships
The WFTDA is excited to announce the following top four teams receive a bye directly to the 2019 International WFTDA Championships:
Rose City Rollers
Gotham Girls Roller Derby
Victorian Roller Derby League
Arch Rival Roller Derby
These four teams will be joining the WFTDA, our hosts Montreal Roller Derby, and 3000 roller derby fans at the Complexe Sportif Claude-Robillard.
Tickets to all Playoffs and the 2019 Championships are on sale now. Remember there are only 3000 total tickets to Championships and we have less than half remaining. If you want to be part of #Champs3000, get your tickets today!
WFTDA International Playoffs Brackets
The brackets released today are without game times. Game order is subject to change when game times released.
Winston-Salem, North Carolina
Sept. 6-9, 2019
Winston-Salem Fairgrounds Annex
Hosted by Greensboro Roller Derby
Tournament Info
Texas Rollergirls
Angel City Derby
Rainy City Roller Derby
2×4 Roller Derby
Santa Cruz Derby Girls
Helsinki Roller Derby
Windy City Rollers
Bay Area Derby
Atlanta Roller Derby
Bear City Roller Derby
Lomme Roller Girls
Paris Rollergirls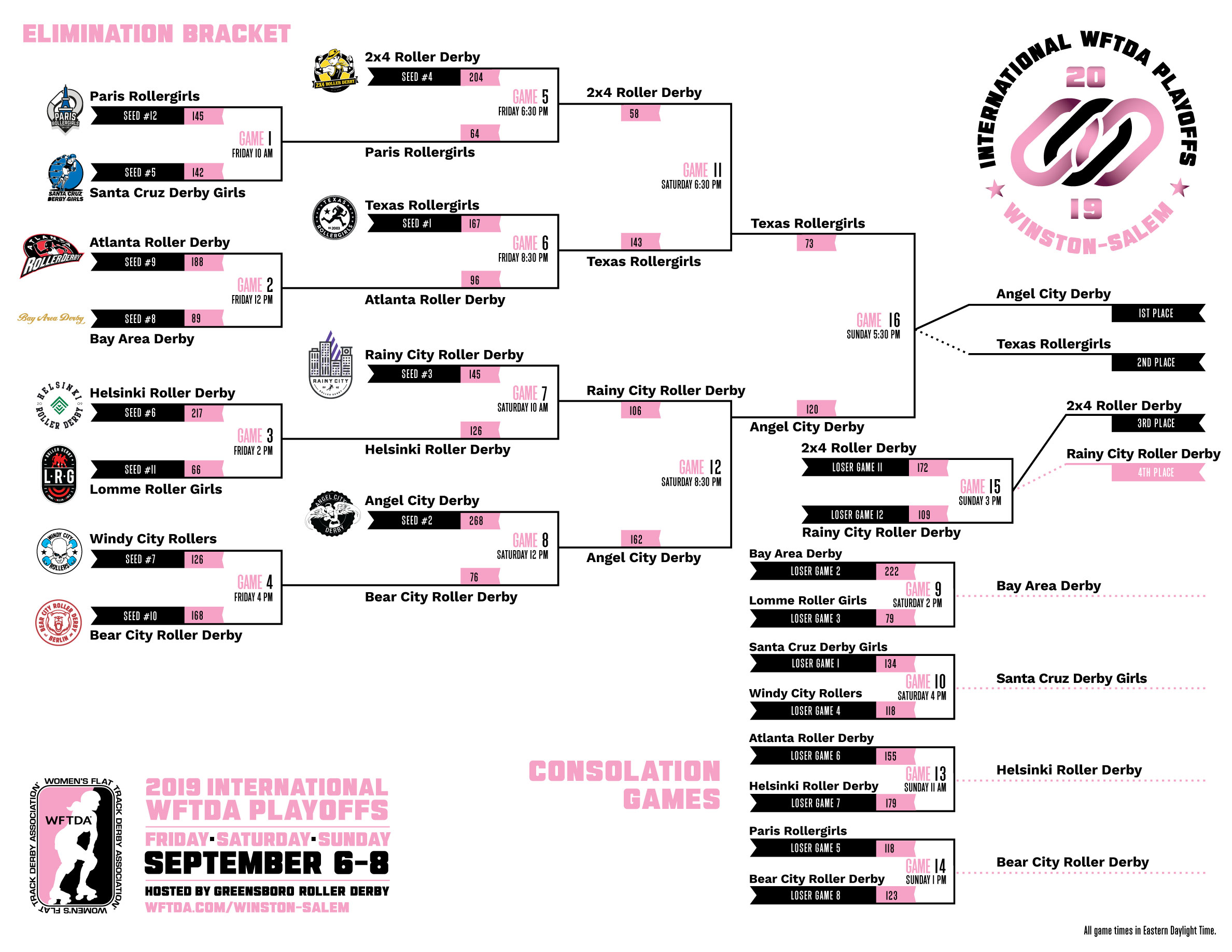 Download: US Letter PDF | A5 PDF | A4 PDF
Seattle, Washington
Sept. 13-15, 2019
accesso ShoWare Center
Hosted by Rat City Roller Derby
Tournament Info
Denver Roller Derby
Montréal Roller Derby
Philly Roller Derby
Crime City Rollers
Rat City Roller Derby
London Rollergirls
Jacksonville Roller Derby
Arizona Roller Derby
Stockholm Roller Derby
Ann Arbor Derby Dimes
Queen City Roller Girls
Minnesota RollerGirls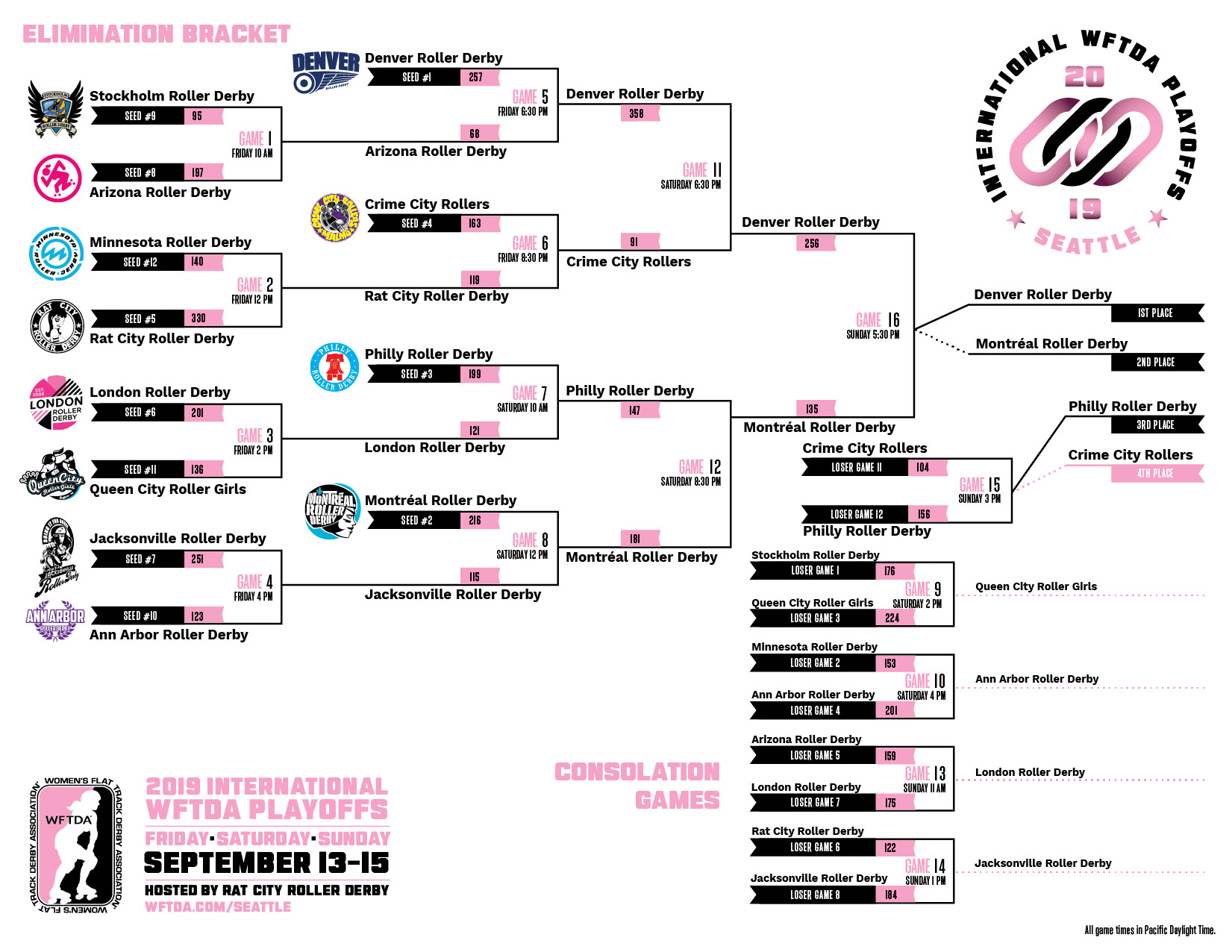 Download: US Letter PDF | A5 PDF | A4 PDF
WFTDA Continental Cups
North America West – Orem, Utah
August 9-11, 2019
UCCU Center
800 W University Pkwy
Orem, Utah, USA
Hosted by Happy Valley Derby Darlins
Tournament Info
Calgary Roller Derby Association
Sun State Roller Derby
E-Ville Roller Derby
Rocky Mountain Rollergirls
Happy Valley Derby Darlins
Sacramento Roller Derby
Jet City Roller Derby
Team United Roller Derby
North Star Roller Derby
Adelaide Roller Derby
No Coast Derby Girls
Red Stick Roller Derby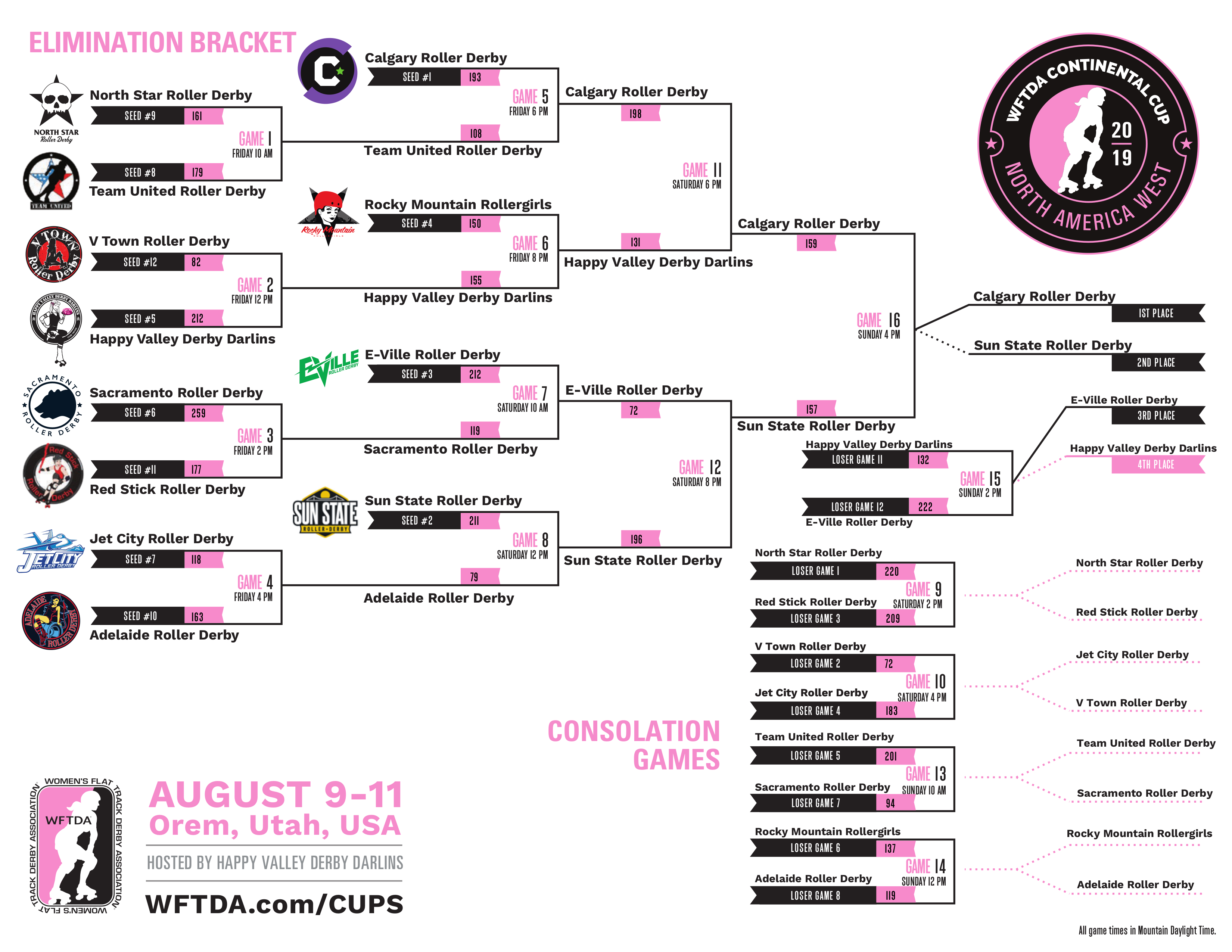 Download: US Letter PDF | A5 PDF | A4 PDF
North America East – Lancaster, Pennsylvania
Aug. 23-25, 2019
Spooky Nook Sports
75 Champ Blvd
Manheim, Pennsylvania
Hosted by Dutchland Derby Rollers
Tournament Info
Naptown Roller Derby
Boston Roller Derby
Detroit Roller Derby
Blue Ridge Rollergirls
Sailor City Rollers
Madison Roller Derby
Columbia Roller Derby
Tampa Roller Derby
Tri-City Roller Derby
Gem City Roller Derby
Ohio Roller Derby
Toronto Roller Derby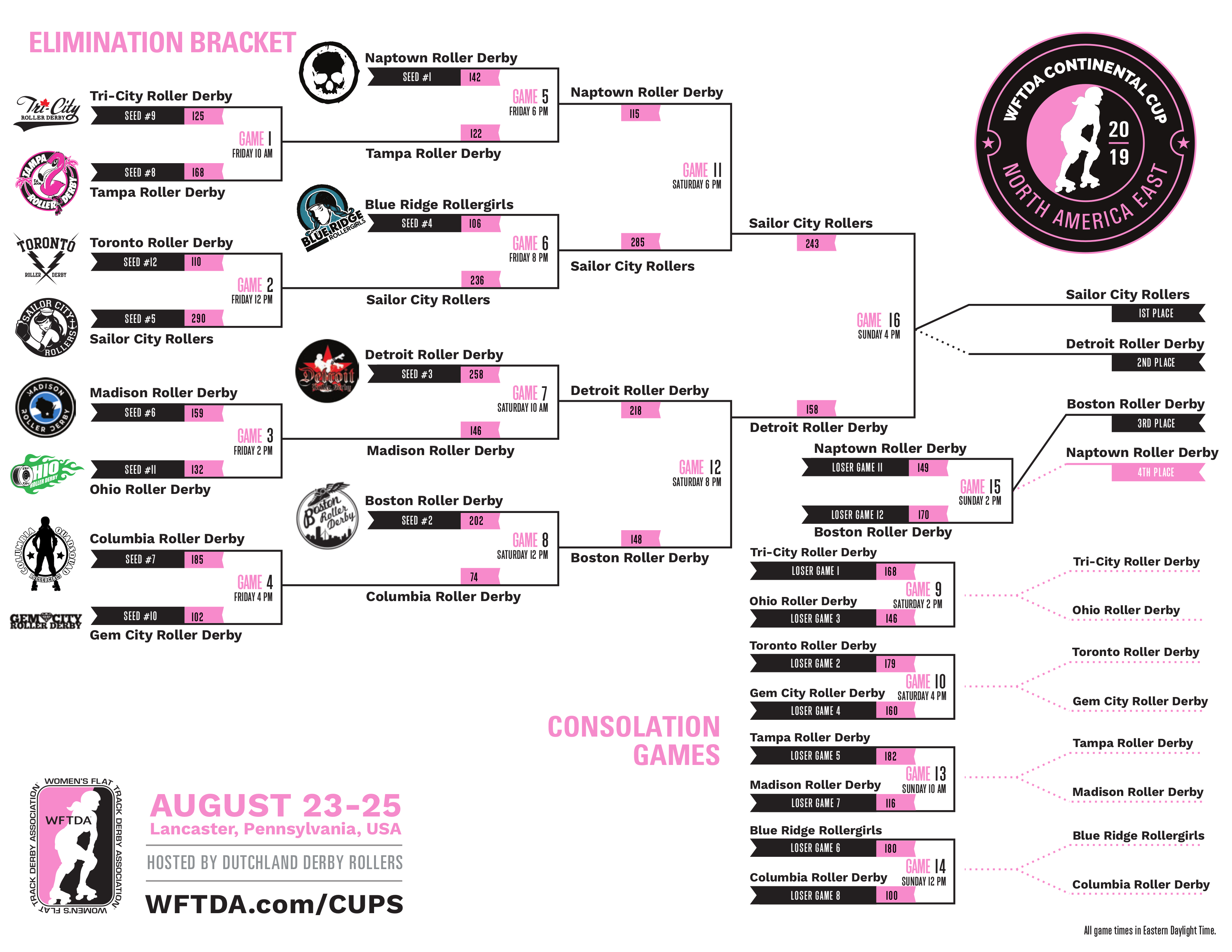 Download: US Letter PDF | A5 PDF | A4 PDF
Europe – Helsinki, Finland
Oct. 5-6, 2019
Pasilan Urheiluhalli
Radiokatu 22, 00240 Helsinki
Hosted by Kallio Rolling Rainbow
Tournament Info
Dublin Roller Derby
Dock City Rollers
Kallio Rolling Rainbow
Auld Reekie Roller Derby
Perth Roller Derby
Central City Roller Derby
Tiger Bay Brawlers
Antwerp Roller Derby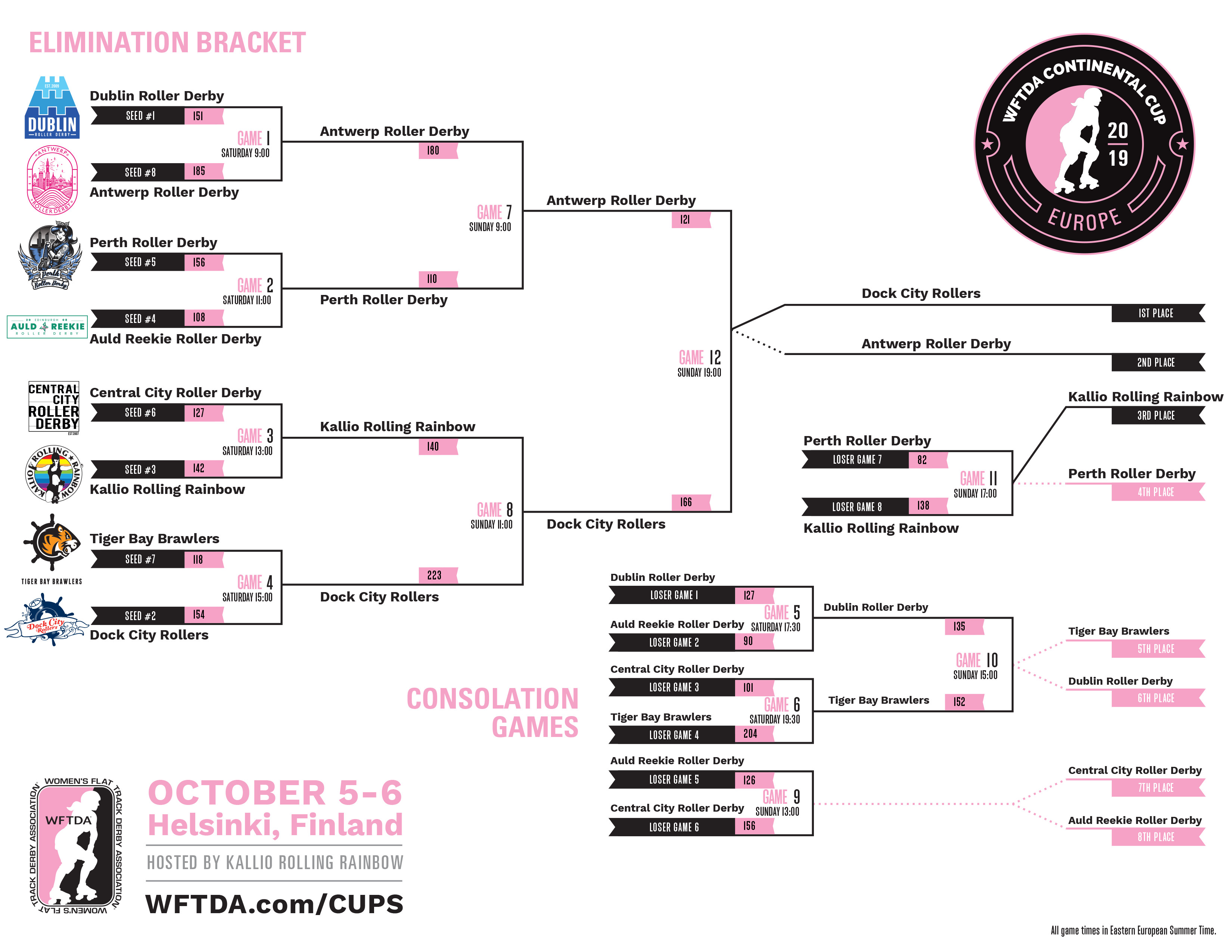 Download: US Letter PDF | A5 PDF | A4 PDF
The 2019 WFTDA postseason begins August 9 in Utah. Brackets, tickets and host information for Continental Cups can be found at WFTDA.com/cups. For all of the Playoffs and other details about the WFTDA's biggest events of the year are available at WFTDA Tournament Central.