Angel City Derby Wins the 2019 International WFTDA Playoffs Winston-Salem 
Angel City Derby of Los Angeles, California, US (Seed #2) won the 2019 International WFTDA Playoffs: Winston-Salem, hosted by Greensboro Roller Derby in Winston-Salem, North Carolina, US, September 6-8, 2019. Angel City will advance to the 2019 International WFTDA Championships in Montréal, November 15-17.
Joining Angel City in Montréal will be Texas Rollergirls of Austin, Texas, US (Seed #1), who came in Second Place, and 2×4 Roller Derby of Buenos Aires, Argentina (Seed #4) who came in Third Place. 2×4 will be the first team from South America to compete in the International WFTDA Championships.
The tournament MVP was Blaque Jac of Atlanta Roller Derby, chosen for her outstanding contributions both on and off the track, including her sparkling personality and extremely effective offense. Blaque Jac is a "ubiquitous presence in the derby community, and a hell of a class act," said WFTDA BOD Member, Gloom while presenting the award.
A tournament full of upsets busted everyone's brackets in the 2019 WFTDA Bracket Challenge by Derby on Toast. But SarahK0211 lasted longer than anyone else, and wins a WFTDA.tv Full Season bundle, including the remaining tournaments and ALL 2019 postseason archives, and will be entered in a drawing to win 2 VIP tickets to Championships.
Congratulations to all of the participating teams, and thanks to all the officials, announcers, photographers, and other volunteers who make everything possible. Special thanks  to tournament hosts, Greensboro Roller Derby, for welcoming the WFTDA community to Winston-Salem.
If you missed out on any of the action this weekend, check out our daily recaps at Winston-Salem Playoffs Tournament Central. Video archives are currently available at wftda.tv for watch pass buyers (discounted archive watch passes go on sale soon) and will be released Wednesday on the WFTDA Twitch channel. Learn more about accessing the 2019 tournament archives.
Final Results
First Place: Angel City Derby of Los Angeles, California, U.S. (Seed #2)
Second Place: Texas Rollergirls of Austin, Texas, U.S. (Seed #1)
Third Place: 2×4 Roller Derby of Buenos Aires, Argentina (Seed #4)
Download Final Brackets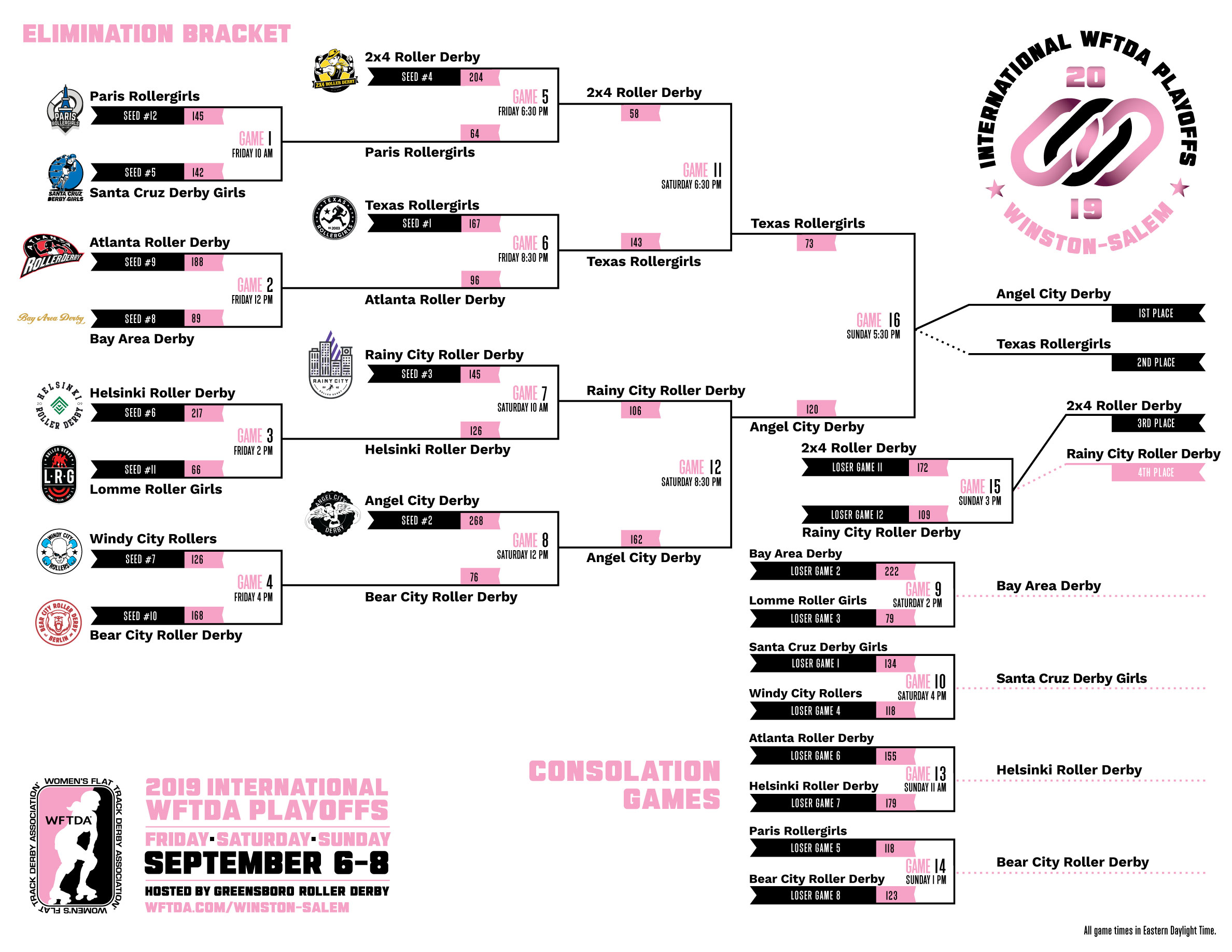 Download: US Letter PDF