Tournament Results
News & Links
2017 Championships
November 3 - 5, 2017
The Liacouras Center
1776 North Broad Street Philadelphia PA 19121
Victoria Wins!!!
Victorian Roller Derby League (Dallas #1) won the 2017 International WFTDA Championships, becoming the first league from outside of the United States to win the WFTDA Championship. Rose City Rollers (Seattle #1) came in Second Place, and Gotham Girls Roller Derby (Malmö #2) came in Third Place.
---
Bracket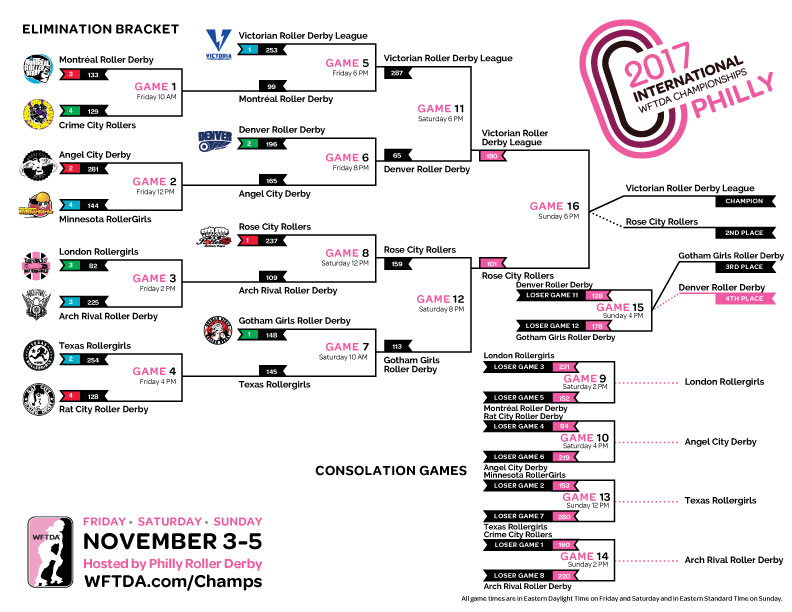 CLICK FOR PDF
---
Hosted by Philly Roller Derby
Established in 2005, Philly Roller Derby's mission is simple: to promote health, athleticism, and leadership skills in people of all ages through roller derby training and competition. PRD is a skater-owned and operated roller derby league and strives to develop relationships with other nonprofit organizations and charities, and to support groups within the great city of Philadelphia and beyond. As a founding member of the WFTDA, we are honored to once again host the 2017 International WFTDA Championships.
From humble beginnings of penalty wheels, fishnets and renting a roller rink in Camden NJ, PRD has evolved into 3 intramural teams, 2 travel teams (including the All-Star Liberty Belles) and 1 junior league organization with it's own home in Germantown Philadelphia. Over the last decade PRD has hosted 255 WFTDA sanctioned games between their annual East Coast Derby Extravaganza, 2009's WFTDA Nationals (now International Championships) Declaration of Derby, and various other home games. The Liberty Belles have participated in post-season playoffs every year since 2007 and competed in all but 4 Championships.
Philly Roller Derby is comprised of not only our adult skating members, but countless volunteers, officials and juniors skaters who welcome you to Philadelphia for a weekend of unforgettable derby and fun times!
---
Sponsored By