Tournament Results
News & Links
D1 Playoffs
Seattle
September 1 - 3
ShoWare Center
625 W James St., Kent, WA 98032
Rose City Wins!
Rose City Rollers (#1) won the 2017 International WFTDA Division 1 Playoffs Seattle. Angel City Derby Girls (#2) came in Second Place, Montréal Roller Derby (#5) came in Third Place, and Rat City Rollergirls (#6) came in Fourth Place.
These four teams will compete at the 2017 International WFTDA Championships in Philadelphia, Pennsylvania, U.S. Nov. 3-5.
The tournament MVP was Falcon Punch of Montréal Roller Derby.
---
Brackets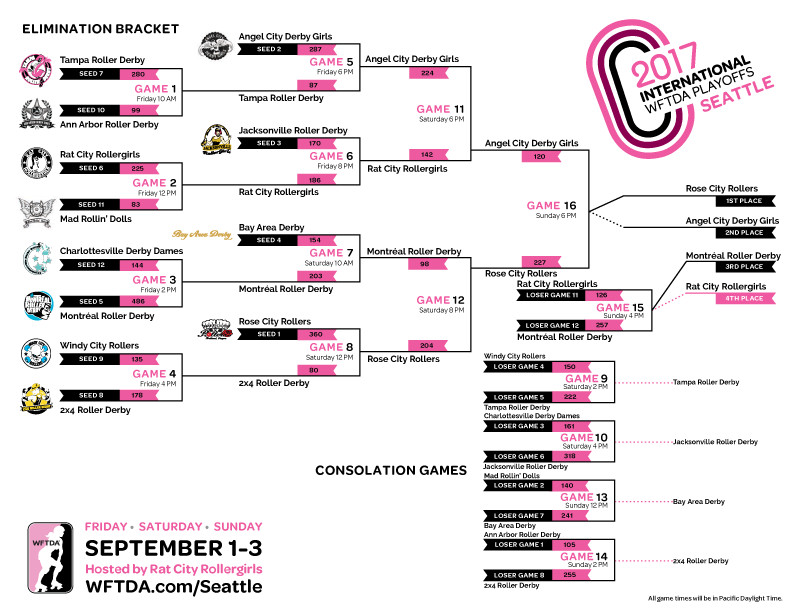 CLICK FOR PDF
---
Hosted by Rat City Rollergirls
Rat City Rollergirls (RCRG) is Seattle's premier, flat-track roller derby league composed of about 80 active skaters and many retired skaters who have been promoted to the "biggest fan" club. The skaters are grouped into four home teams: Derby Liberation Front, Grave Danger, Sockit Wenches, and Throttle Rockets. In addition, an elite group of skaters are chosen each year to represent the league on its travel teams, the Rat City All Stars, ranked 15th in the world at the date of this publication, and the Rain of Terror (RCRG's B Team). RCRG also offers several programs for skater development: the learn-to-skate program called Pinkies, Rat Lab Fundamentals, and Competitive Rat Lab, which is RCRG's pool of draft-ready skaters.
---
Thank You to Our Sponsors